How to Fix Windows 10 Fall Creators Update Installation Stuck
Jun. 24, 2022 / Updated by wendy to Windows 10
A number of Windows 10 users are experiencing the Fall Creators Updateinstallation stuck problem since the major autumn Windows OS Update, Windows 10 Fall Creators Update is released this Tuesday. Complaints about the 1709 Creators Update like "The network connectivity keeps dropping during the Windows 10 Fall Creators Update downloading process and get stuck get 97% with a loading Windows logo" are continually renewing. If you running into problems during the Fall Creators Update or after the installation, below are effective tricks to help you fix the install/ update stuck.
See Also:
Fix Windows 10 Creators Update Install Stuck Issue
How to Block Windows 10 Fall Creators Update from Auto Installing
Top 4 Fixes for Windows 10 Black Screen after Fall Creators Update Bug
1. Disable VPN and Antivirus Software to Fix Fall Creators Update Installation Stuck for Windows 10
If you encountered Windows Update downloading installation error during the Creators Update, the first thing you should check is to make sure your VPN (if you got one), Windows Defender and other antivirus software are disabled. Especially the 0x800F0922 error message is always caused by a VPN connection. Thus, do remember to disconnect those security software and VPN devices when processing a Windows OS update since they may prevent your computer from upgrading to Windows 10 Fall Creators Update.
2. Ensure Enough Space
If you get the Windows 10 1709 version install stuck error with the error code 0xC1900200 or 0xC1900202, it means there isn't enough space to complete the Fall Creators Update installation. You can take below Windows 10 Creators Update hardware requirements for reference. If you are running out of storage, you should free up some.
• Processor: 1GHz or faster processor
• RAM: 2GB for 32-bit and 2GB for 64-bit
• Storage: 16GB for 32-bit OS and 20GB for 64-bit OS
• Graphics card: DirectX9 or later with WDDM 1.0 driver
• Display: 800 x 600
See Also: How to Fix Low Storage Space Problem on Windows 10
You can also resolve this store issue by connecting a removable storage device with at least 8GB of available space that Windows 10 can use as temporary storage to complete the installation.
Note: If you use the Disk Clean up tool, remember not to delete "Windows Setup temporary files," since they are the files needed to install the 1709 version of Windows 10 on your device.
3. Install the Latest Windows Update for Windows 10 Fall Creators Update
Sometimes you may fail to upgrade to the Fall Creators Update for Windows 10 due to the missing or damaged installation files that come with the patch updates before the 1709 build Creators Update. To exclude that possibility, you should use the cleanup command can remove the old software, temporary objects, and junk files and then install the latest Windows Update. Below is how.
Use Disk Cleanup to Remove Junk Files
Step 1. Press Win + R to launch Run.
Step 2. Type cleanmgr into the dialog box.
Step 3. Press Enter and open the Disk Cleanup.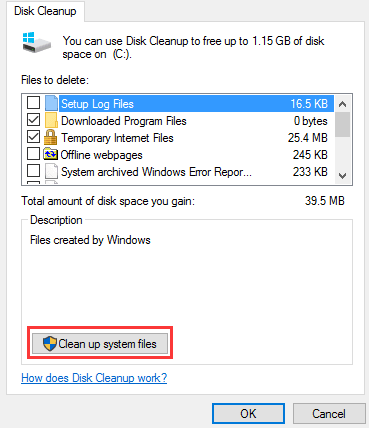 Step 4. Click Clean up system files button on the Disk Cleanup for (C:) window.
Step 5. Then it will begin to scanning for the device driver package and other files. Once the scan competes, select items you want to remove (You can refer to the size to the right) from the list box and then click OK.
Install the Latest Windows 10 Update
Step 1. Press Win + I to open Settings.
Step 2. Click on Update & Security ->Windows Update.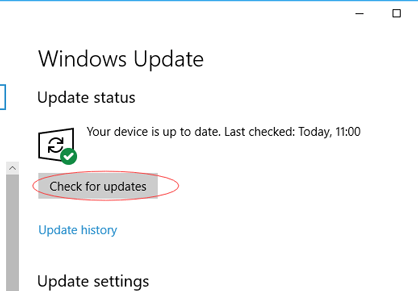 Step 3. Click the Check for updates and then install them.
Try updating the Fall Creators Update again and check whether the installation stuck error appears.
4. Update Device Drivers for Windows 10 Fall Creators Update
Should the Windows 10 Fall Creators Update go fail with the 0xC1900101 error code, you may get trapped in the driver and software compatibility. If that's the case, you should check out your all your software and hardware drivers and ensure that they are up to date. If the installation process shows you which bit of software or hardware is causing problems, you can find it in the Device Manager and then right-click on it to update its driver. While the quickest way to update drivers is to use a professional driver update utility, say Driver Talent, to update all the outdated or incompatible drivers to the best-matched ones within minutes. Click the button below to grab Driver Talent.
Step 1. Click "Scan" to let Driver Talent identify the problem drivers which caused the Fall Creators Update failure.
Step 2. Update the drivers by clicking "Update" or click "Repair" to fix the faulty drivers for Windows 10 Fall Creator Update.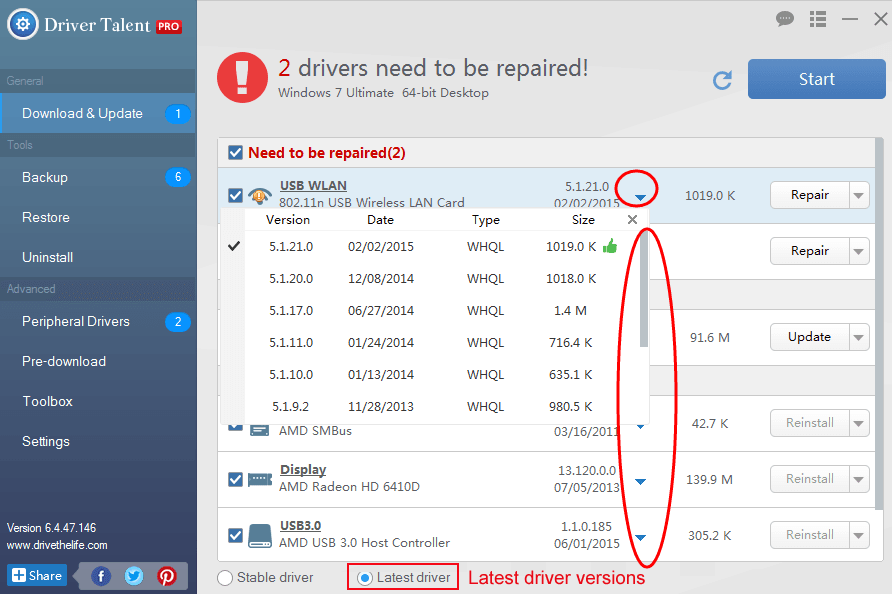 Notes: In case you may need to rollback drivers, you'd better backup drivers before Step 2.
Step 3. Reboot your computer to make the updated drivers take effect on Windows 10 Creators Update.
5. Fix Windows 10 Fall Creator Update Installation Issues Using Media Creation Tool
If you stuck with the Fall Creator Update via the Media Creation Tool with the error message DynamicUpdate, restarting your device only to find the same installation stuck, you can try the steps below.
Step 1. Open the File Explorer.
Step 2. Navigate to the following path:
C:\$Windows.~WS\Sources\Windows\sources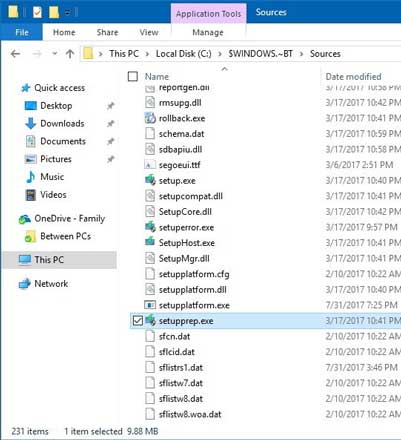 Step 3. Double-click the Setupprep.exe to launch the update process again.
Once the steps above are completed, follow the on-screen instructions to upgrade to the Fall Creators Update of Windows 10.
That's all for theWindows 10 Fall Creator Update installation problems. If you still get stuck on Windows 10 1709 Update installation process, comment below or click the left menu on this page for further tech support.
Recommended Download