Top 4 Ways to Fix Windows Update Error 0x80070424
Jan. 21, 2019 / Updated by Bessie Shaw to Windows 10
On the past Tuesday, Microsoft rolled out several new cumulative updates for Windows operating systems to make them better. There are KB4340917 (OS Build 17134.191) for Windows 10 Version 1803 (also known as Windows 10 April 2018 Update), KB4338817 (OS Build 16299.579) for Windows 10 Version 1709 (also known as the Fall Creators Update), KB4338827 (OS Build 15063.1235) for Windows 10 Version 1703 (also known as the Creators Updated) and KB4338822 (OS Build 14393.2395) for Windows 10 Version 1607 (also known as the Anniversary Update) and Windows Server 2016. A bunch of improvements and fixes are brought. However, Windows users may also encounter some weird issues when they try to install these updates. Error code 0x80070424 is an example. It is one of the most common errors occurred during the installation of Windows update. When it appears, the error message below will pop up on your screen: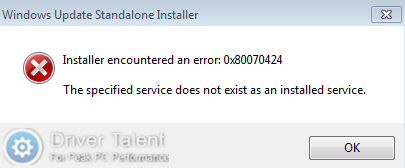 If you come across such an error message, don't panic. Here are top 4 ways to fix Windows update error 0x80070424 for your reference. Just read on to try them one by one.
Way 1. Run the Windows Update Troubleshooter to Resolve the Error
To resolve any issues related to Windows update, the first feasible method is to run the Windows Update troubleshooter. This is the most common workaround. Do as follows:
Step 1. Type "Troubleshoot" into the search bar and click on Troubleshoot in the search result.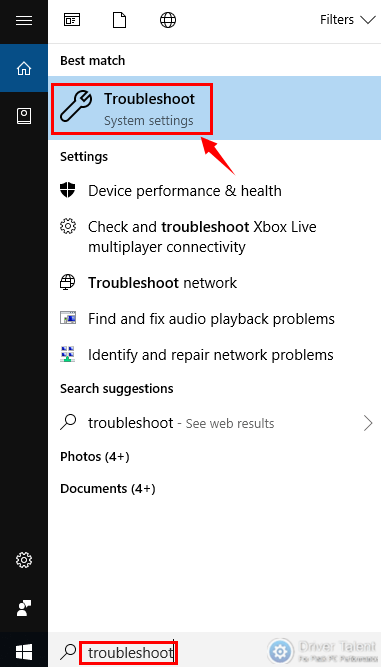 Step 2. Locate Windows Update and click on it.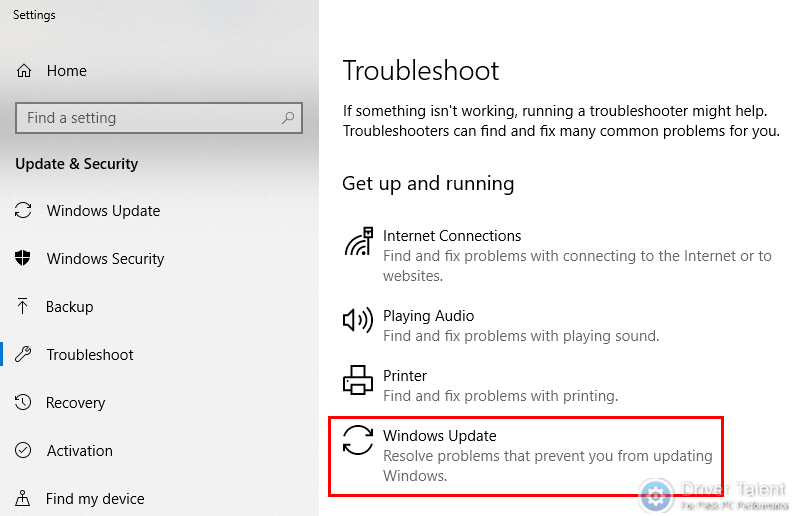 Step 3. Click on Run the troubleshooter. The troubleshooter will detect the update issues automatically and resolve them.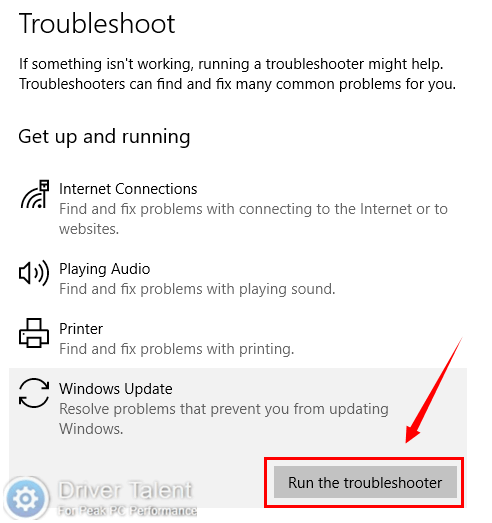 Way 2. Run Chkdsk Command to Troubleshoot Update Error 0x80070424
Run Chkdsk command to make sure that the file system is clean before you manipulate any files. This will help create a clean environment for the installation of Windows updates. In some cases, running Chkdsk command may also help fix Windows update errors like Error 0x80070424. Take these steps.
Step 1. Type "command prompt" into the search bar and right click Command Prompt in the search result to select Run as administrator.
Step 2. Type "Chkdsk volume: /f /r" into command prompt to run it.
Read Also: How to Fix CHKDSK /F/R Not Working after Windows 10 Creators Update
Way 3. Run the System File Checker to Detect Corrupt System Files
Corrupt system files may cause many issues including Windows update error 0x80070424. Therefore, to fix update error 0x80070424, you can also try to detect corrupt system files by running the System File Checker. To do this, read this post for details: How to Fix Corrupted System Files with SFC /scannow in Windows.
Way 4. Reset the Windows Update Components
If the error code 0x80070424 still exists, follow the guide below to reset the Windows update components.
Step 1. Right click the Start button and select the Run. Type "services.msc" into the Run box and hit Enter.
Step 2. Locate Background Intelligent Transfer Service and right click it to select Stop.
Step 3. Locate Windows Update, right click it and also select Stop.
Step 4. Open File Explorer and navigate to C:\Windows\SoftwareDistribution. Remove all the content in this folder.
Step 5. Right click the Start button and select Windows PowerShell (Admin) to open the Windows PowerShell as administrator.
Step 6. Run the following commands in Windows PowerShell one by one:
net stop wuauserv

net stop cryptSvc

net stop bits

net stop msiserver

ren C:\Windows\SoftwareDistribution SoftwareDistribution.old

net start wuauserv

net start cryptSvc

net start bits

net start msiserver

Step 7. Close the Windows PowerShell and restart your computer.

Now you can try to reinstall the update to see if Windows update error 0x80070424 is gone.

These are the top 4 ways to fix Windows update error 0x80070424. Hope you could get rid of this weird error after you tried these methods. If you need further assistance, you can get to us by leaving comments below. For more solutions to other Windows update errors, such as Error 0x8024a112, Error 0x800f0900, Error 0x8007007e and Error 0x8024a105, you can go to the Windows 10 section on this site.
Recommended Download