Fix: File Explorer not Working on Windows 10
Jun. 24, 2022 / Updated by Wendy to Windows 10
After upgrading to Windows 10, Windows Anniversary Update or the Creators Update, many users find the File Explorer no longer working anymore or loading forever with the error message "File Explorer (Not Responding)". This File Explorer not working properly issue prevents Windows 10 users from accessing the computer apps, doc files, photos etc. unless they remember those files' names and search them in the start menu bar. How annoying! If you happen to get trapped in this File Explorer won't open problem on Windows 10, below are top 4 methods to help you out.
Read More: How to Fix Start Menu Not Working after Windows 10 Creators Update
Method 1. Modify the Display Settings to Fix File Explorer Not Working on Windows 10
The first solution you can try to get rid of the Windows 10 File Explorer not working error is just as simple as modifying the display setting in the Windows settings since lots of Windows 10 users who've met the File Explorer not working hitch with endless loading solved that hassle by adjusting the display settings to a smaller value, a value that the File Explorer can easily process and deal with. Below is how:
1. Hold the Windows shortcut keys Win + I to open Windows Settings and choose System.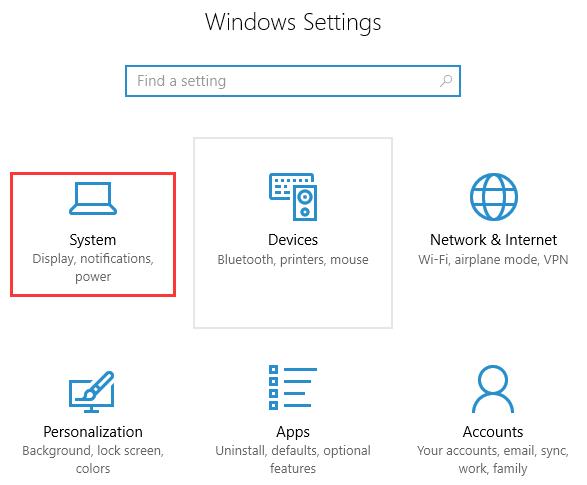 2. Under the Display category, change the size of your text, apps and other items to 100%, 125%, or 200%. Don't set it to 175%, for 175% is reported to be the culprit of the File Explorer problem.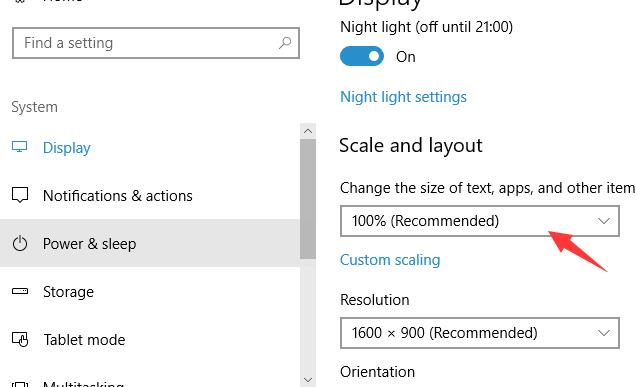 3. Click Apply to save the changes and then check whether the File Explorer not working issue is solved on Windows 10.
Method 2. Restart Windows Explorer in Task Manager to Resolve the File Explorer not Opening on Windows 10
Sometimes restarting the Windows Explorer, the process of File Explorer in the Task Manager works like a charm on Windows 10 File Explorer not opening glitch. Task Manager can help to end the running program to fix the common system issues like PC slow, high CPU usage etc.
1. Press Ctrl + Shift + Esc to start Task Manager.
2. Locate the Windows Explorer and then right-click it to select End task.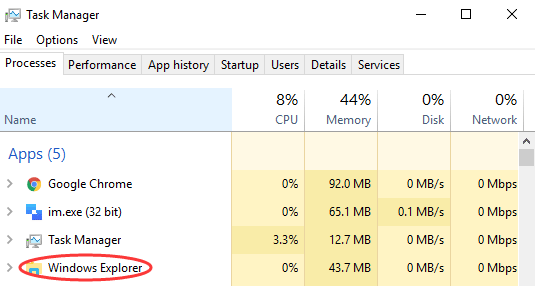 3. On top of the Task Manager window, click File and choose Run new task.
4. Type explorer.exe in the box and then hit Enter.Then you should be able to open the File Explorer without the lasting loading.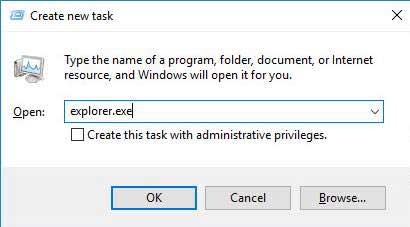 Method 3. Update Display Drivers to Troubleshoot Windows 10 File Explorer Not Responding Error
The outdated, broken or corrupt Windows 10 display drivers could also lead to computer issues like File Explorer not working properly PC freezing/hanging randomly, AMD issues, BSoD (Blue screen of death) error, Windows 10 Store error etc. To update the proper graphics drivers and eliminate the File Explorer can't be opened after Windows 10 upgrade, you can use a trustworthy driver issue troubleshooter like Driver Talent. Trusted by over 3,000,000 people, over 200 countries and areas, Driver Talent always finds and installs the official and WHQL Windows devices drivers and fix driver related computer issues accordingly.
Driver Talent is available via the Download button below. And then follow the 3 easy steps to update graphics drivers for Windows 10.
1. Click Scan to detect if the display drivers are outdated, missing or broken.
2. Click Update/Repair to download and install the best-matched graphics driver updates.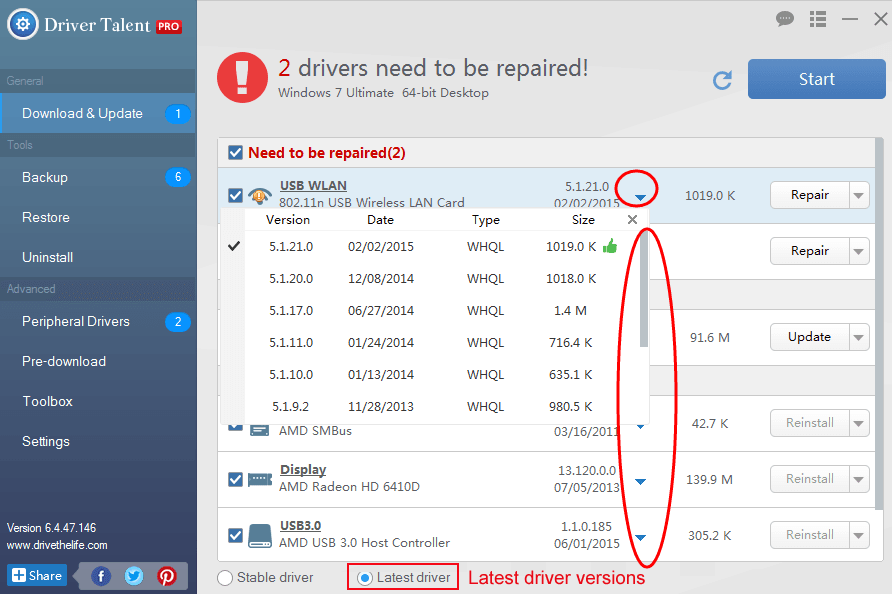 3. Reboot the computer to let the drivers take effect and then you should be able to enjoy the quick access to any file the File Explorer brings with no more loading.
Method 4. Clear History Cache and Create New Shortcut
Should all the above tricks come to no avail, you might as well try clear the File Explorer history and create a new shortcut. Follow below steps to do so.
1. Right click the File Explorer icon on the task bar to choose Unpin from taskbar.
2. Press Win + X to select File Explorer.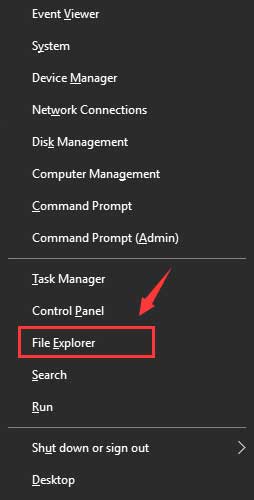 3. Right click the Quick Access and select Options.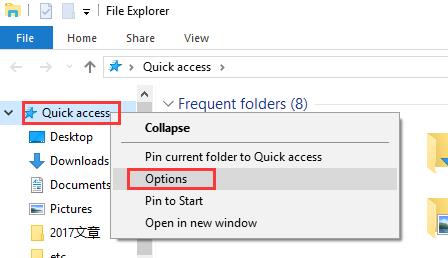 4. On the General tab, click Clear under Privacy category to clear the File Explorer history cache.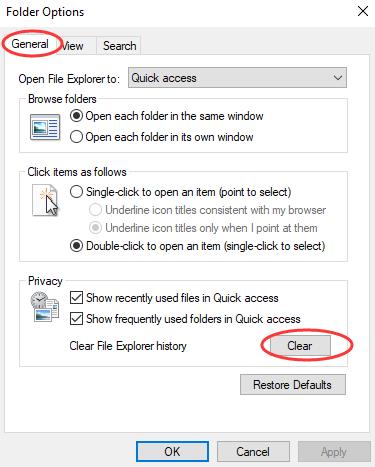 5. Right click on the blank spot on the desktop and choose New -> Shortcut.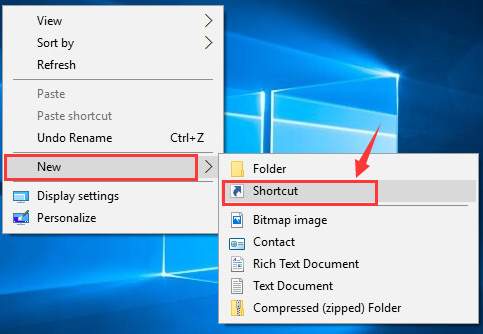 6. Type in the address: C:\Windows\explorer.exe and then click Next.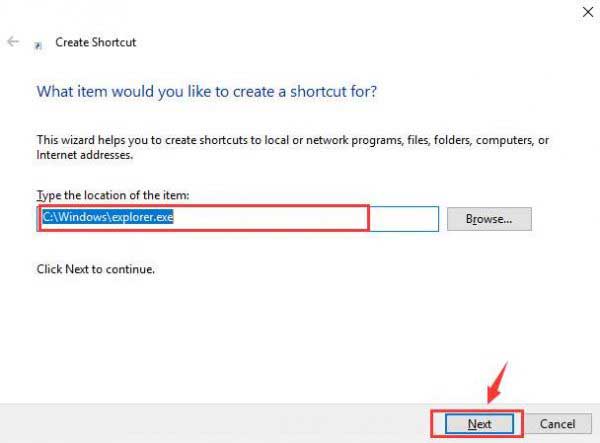 7. Rename the file File Explorer and then click Finish to save the name.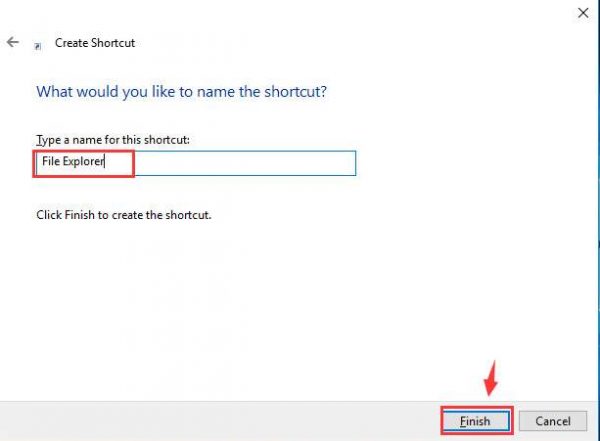 8. Right click the newly created shortcut to choose Pin to task bar.
Then the File Explorer won't open malfunction in Windows 10 should be figured out.
Above are all troubleshooters we find to fix Windows 10 File Explorer not working error. If you know more workarounds to quit the File Explorer not responding problem, do share with us in the comment section below, or go to the OStoto official forum via the left menu on the page. For more operation details, you can see this video: Fix File Explorer not Working on Windows 10.
Recommended Download