How to Fix Screen Flickering after Windows 10 Fall Creators Update
Jun. 24, 2022 / Updated by Bessie Shaw to Windows 10
The Windows 10 Fall Creators Update brings forth a couple of screen issues, like black screen, blue screen, etc.. Some users have reported the screen flickering after Windows 10 Fall Creators Update issue on Reddit. Follow the 3 methods below to fix the screen flickering or screen flashing flaw after the Fall Creators Update, also applied to Windows 10 Spring Creators Update.
Method 1. Update the Graphics Card Driver to Fix Screen Flickering in Windows 10 Fall Creators Update
If you are experiencing the screen flickering upon installing the Windows 10 Fall Creators Update, it might due to the graphics driver compatibility problem. In most cases, updating your graphics card driver could eliminate the screen flickering in the Windows 10 Fall Creators Update. You could try a reliable driver update utility tool like Driver Talent to update the graphics driver for the Windows 10 Fall Creators Update. The graphics driver downloaded by Driver Talent is genuine version, not from any third-party website.
Click the button below to get Driver Talent directly.

Here are 3 steps to download and install graphics card driver automatically with Driver Talent to resolve your screen flashing after the Windows 10 Fall Creators Update.
1. Scan Your PC
Launch Driver Talent. Click "Scan" to make an in-depth scan to identify your outdated, corrupted, broken or missing graphics card driver.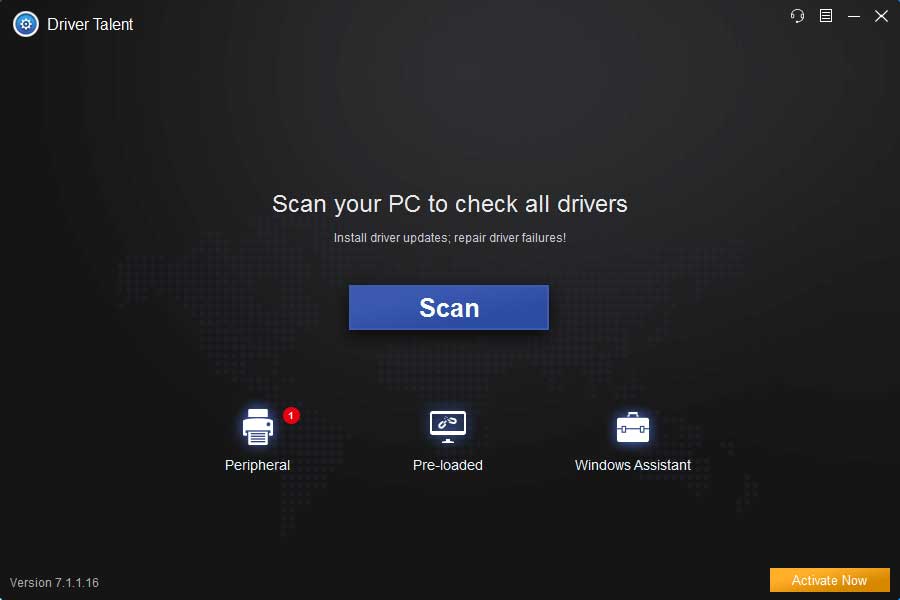 2. Download and Update the Graphics Driver
Click "Repair" to fix the problematic graphics driver it finds. Driver Talent will automatically download and install the most compatible display driver for the Windows 10 Fall Creators Update. You can also click "Update" to keep all your device drivers up to date. But for stability reason, don't update what ain't broken.
3. Reboot Your PC
After the graphics driver installation is finished, reboot your PC to allow changes to go into effect.
Note: It is strongly recommended that perform a back up of drivers with Driver Talent prior to installing new graphics driver in case of driver crashes.
Please note that Drive Talent involves many other advanced features, such as drivers restore, drivers uninstall, system restore, drivers pre-download for another PC, PC Repair (common computer issues like no sound, no Wi-Fi etc), hardware detection, VR support check and PC speed up, etc..
See Also: Free Download & Update Graphics Driver, Video Card Driver, Monitor Driver, Display Card Driver
Method 2. Enter Safe Mode and Perform a Clean Boot to Resolve Screen Flashing after Fall Creators Update

To fix the screen flashing after the Windows 10 Fall Creators Update, you could try to enter the Safe Mode and then perform a clean boot. Follow these steps:
Step 1. Enter Safe Mode.
Step 2. Press Windows key + R to open the Run dialog.
Step 3. Type msconfig and hit Enter.
Step 4. Click on the Services tab, and check the Hide all Microsoft services check box, and then go to Disable all.
Step 5. Click the Startup tab and click Open Task Manager.
Step 6. Select each startup item and then click Disable.
Step 7. Click OK and then reboot your PC.
Method 3. Scan Your Computer for Viruses
Viruses or malicious software may also result in a flickering screen in the Windows 10 Fall Creators Update. You could make use of some antivirus software to check whether your computer has been infected by viruses or other malicious malware. Make sure your antivirus software is the latest version, or else you need to update it.
See Also: How to Fix Screen Flickering after Windows 10 Upgrade
If you think this article is useful, please share it on Facebook, Twitter, LinkedIn, Google+, Reddit or Digg to help your friends solve the similar issues.
If you know other troubleshooting methods to fix the screen flickering after the Windows 10Fall Creators Update problem, don't hesitate to write down in the comments section below. Thanks.
Recommended Download