Fix: Microphone Not Working after Windows 10 April 2018 Update 1803
Jun. 24, 2022 / Updated by Bessie Shaw to Windows 10
The audio issue is very abundant in Windows 10. Recently, the microphone not working problem comes up after the Windows 10 April 2018 Update 1803, especially the Realtek microphone not working work issue. If your external or internal microphone also stops working after the Windows 10 1803 update, here are top 4 troubleshooting methods to get rid of the issue, applied to HP, Asus, Dell, Lenovo, Acer, Toshiba, Lenovo, MSI, Samsung and other brand PCs.
1.

Check the Microphone Settings

Firstly, you could check your microphone settings. If you block apps from using the microphone, the microphone not working after the Windows 10 update 1803 could exist. Make sure you let the apps use your microphone. Take these steps:

Step 1. Click the Start button and then click Settings.

Step 2. Click Privacy.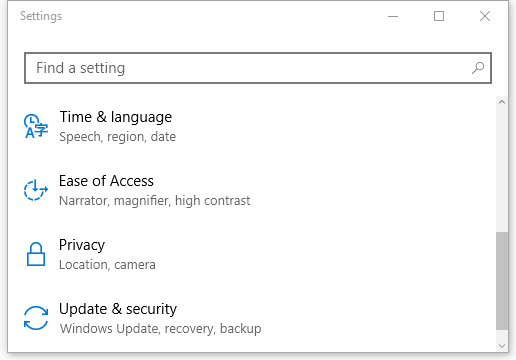 Step 3. In the left panel, click the Microphone section.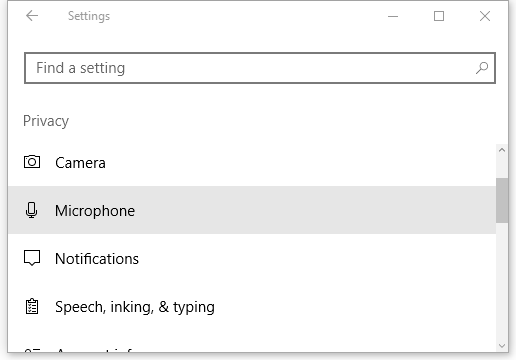 Step 4. Togglethe switch of Let apps use my microphone to On.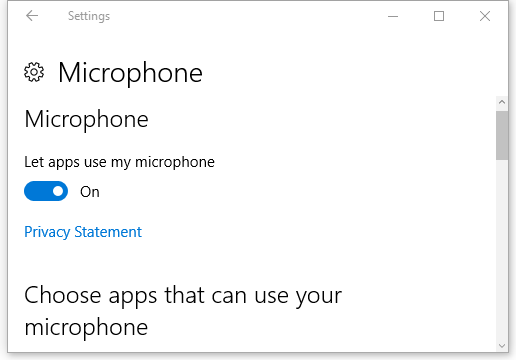 2. Set Built-in Microphone as Default Recording Device
If you ever set an external microphone as the default recording device, your internal microphone not working issue can take place. Take these steps:
Step 1. On the bottom right of your screen, right click the Sound icon in the Taskbar.
Step 2. Click Recording devices.
Step 3. Right-click on your internal microphone and click Set as Default Device.
Step 4. Click OK and then Apply.
3. Run Windows 10 Troubleshooter
You could also run the built-in Windows 10 Troubleshooter tool to fix the microphone not working problem after the Windows Update. Do the following steps:
Step 1. Right-click Start and then click Control Panel.
Step 2. Type "troubleshoot" in the search field on the top right.
Step 3. Click Troubleshooting.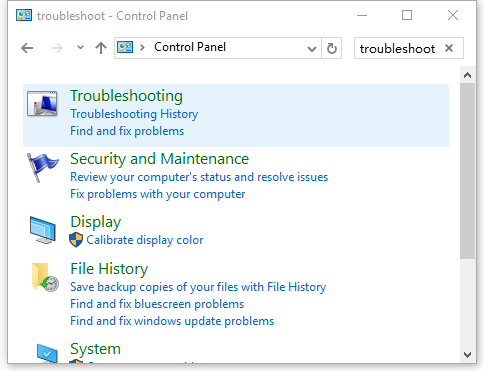 Step 4. Under Hardware and Sound, click Troubleshoot audio recording.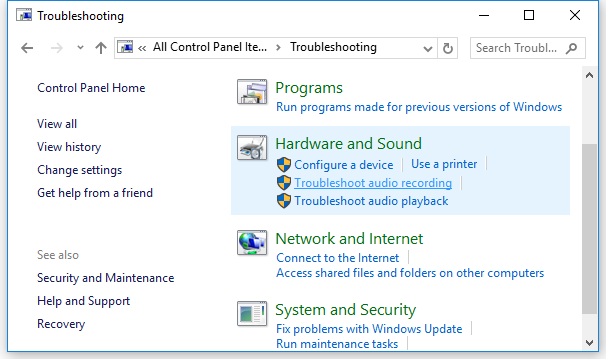 Step 5. In the Recording Audio window, click Next.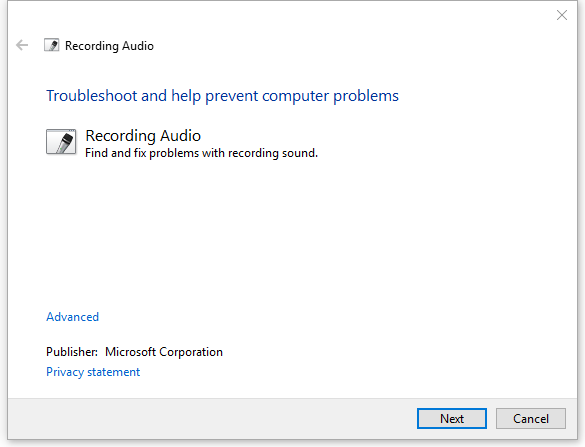 Step 6. The troubleshooter will detect the relevant audio issue and then fix it.
Step 7. Restart your PC.
4. Update the Microphone Driver
The outdated or corrupt microphone driver could lead to the microphone not working after the Windows 10 April 2018 Update 1803. If you're not sure how to check your microphone driver, it's highly recommended to use a driver update utility like Driver Talent to detect all your drivers in seconds. If there are any identified problematic drivers on your PC, it will automatically repair or update them in minutes.
Click the download button below to grab Driver Talent directly. No viruses. No trojans.
Step 1. Scan Your PC
Launch Driver Talent. Click "Scan" to perform a full scan of your computer. The outdated, corrupt, broken or missing drivers will be listed, including your microphone driver.

Step 2. Download and Install Audio Drivers
Click "Install All" and Driver Talent will automatically download and install the latest drivers to replace your outdated driver version.The thing you may want to know is that you need to click "Activate Now" before successfully updating the drivers.
Step 3. Reboot Your PC
Reboot your PC to make driver update take effect.

Note: Apart from the microphone driver update, Driver Talent provides further useful features, such as drivers backup, drivers restore, drivers uninstall, system restore, drivers pre-download for another PC, PC Repair (no sound, no video, no Wi-Fi available, etc.), DLL files repair, hardware detection, VR support check and PC speed up, etc.
You may also like to check out:
5 Solutions to Fix Microphone Not Working on Windows 10
Fix: Microphone Not Working on Windows 10 Creators Update
How to Fix Microphone Not Working after Windows 10 Fall Creators Update
Fix No Microphone Enhancement Tab in Windows 10
If you have any hesitations about the microphone not working issue after Windows 10 April 2018 Update 1803, don't hesitate to write them down in the Comments section below for further technical assistance.
Recommended Download