How to Restore/Recover Drivers to New Windows Installation
Jun. 24, 2022 / Updated by Helia to Windows Driver Solutions
You may like to restore or recover drivers to a new Windows installation if your computer is installed a retail version of OS like Windows 10, 8.1, 7, etc., because every time you upgrade or reinstall the new system, you need to install the drivers manually, which is really a time-consuming work. Besides, if you happen to have a red cross on the WiFi icon or unidentified network problem after a system reinstall, you may be frustrated with the Windows drivers.
Is there any workaround to restore drivers from a previous Windows to the newly installed OS quickly even without internet? Read the following for solutions.
Method 1: Use Command Lines to Backup and Restore Drivers to New Windows
For those who are familiar with Windows OS, it is better to use some command lines to backup drivers before reinstalling Windows, and then recover the drivers instantly after the reinstallation. Here are the steps:
Step 1: Backup Drivers in Advanced
For example, if you are going to cover your Windows 7 or 8.1 with a new Windows 10 installation, you should firstly backup all the device drivers on the computer.
1. Create a new folder on your computer, for instance, on drive (D:), to store the driver backups. Note: The folder should NOT be created on the system drive (C:) or files will be removed when you reinstall a new system.
2. Open Command Prompt (Admin) on your PC.
Note: Access to Command Prompt is different in various Windows OS. But C:\Windows\System32 is the path available for all the OS. Paste the path to the File Explorer and find cmd.exe. Right click it and select Run as administrator.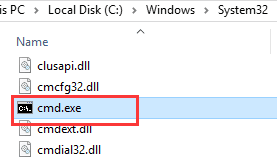 3. Next type command line dism /online /export-driver /destination:D:\MyDrivers into the dialog box. Hit the key Enter to run the command and backup drivers.
Note: The command line above shows that you backup Windows drivers in the folder MyDrivers on driver (D:).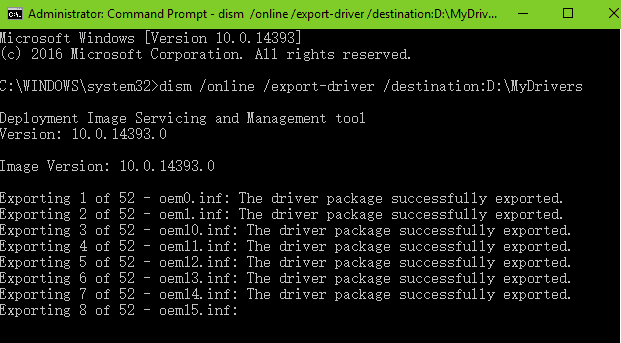 Then you can reinstall or upgrade your Windows 7 or 8.1 and restore the drivers.
Step 2: Restore/Recover Drivers
If you open the Folder MyDrivers on driver (D:) now, you may see a list of drivers you've backed up. To transfer your old drivers to the newly installed Windows, namely Windows 10 in the example, follow this:
1. Launch the Command Prompt (Admin).
2. Type into the command line dism /online /add-driver /driver:D:\MyDrivers /recurse
3. Press the key Enter.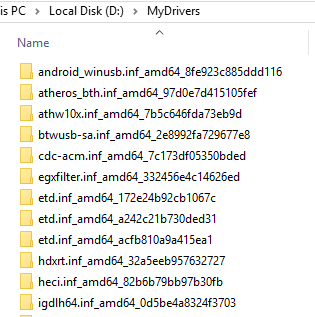 Now you've successfully restore drivers from the previous one and Windows has installed the drivers for each device automatically.
Note: If you are going to perform a clean install of Windows 10 Anniversary, you may fail to restore or install some third-party drivers without digital signatures. You could also check out Fix: Driver Signature Issue in Windows 10 Anniversary and How to Check Unsigned Drivers in Windows 10 for further information.
Method 2: Backup and Restore Drivers via One-click Solution
Since most of the Windows users know little about the computer system, and when encountering PC issues, they often like to reinstall Windows OS. However, it is extremely inconvenient for them to fix the Windows driver problems after the system reinstallation, especially when the WiFi router is not working or there's no LAN access. Without the network, you can't even download drivers for each device. And without the drivers, series of PC issues will annoys you, such as mouse and keyboard not working, Windows 10 ghost touch screen, USB3.0 crashes, etc.
It would be a good idea to use Driver Talent to one-click back up your device drivers before doing a clean install to make it easy to restore any of these drivers as needed afterwards.
Instead of learning about the difficult command lines in Method 1, it is easy for you to take this "safest and fastest way" to restore/recover drivers quickly, without any worries. Click on the button above to have this one-click solution right now and follow the steps to restore drivers instantly.
Note: It is better to install Driver Talent on drive (D:), (E:), (F:), etc.
Step 1: Perform a Free Scan before Windows Reinstallation
Before the system reinstall, launch Driver Talent and click on the Scan button to detect driver problems. If there are any faulty drivers, click on the Repair to fix them. This is helpful to backup and restore the best-match drivers.
Step 2: One-click Backup Drivers
Select the Backup tab. Check all the drivers in the list and then click on the Start button to backup drivers.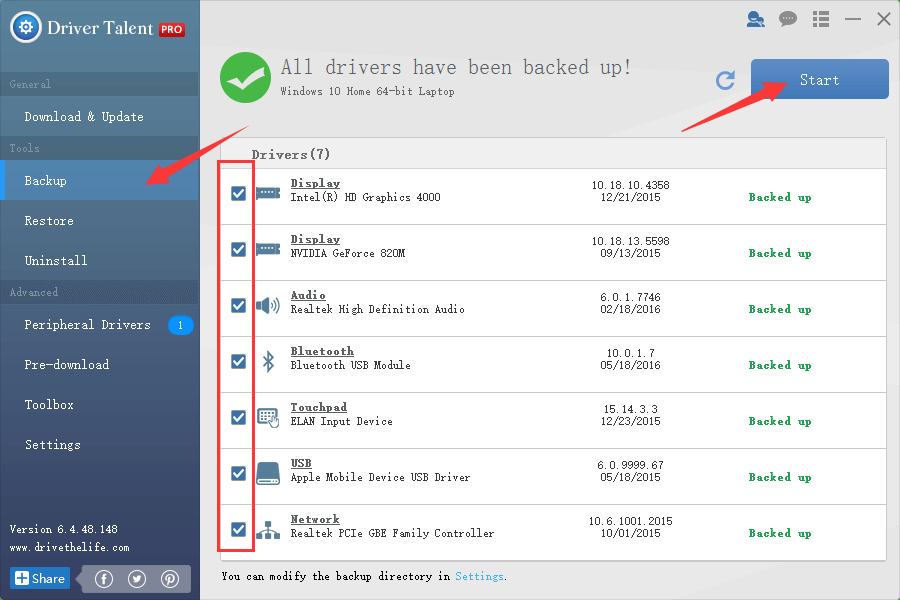 Step 3: One-click Restore/Recover Drivers
After you finish reinstalling the new Windows OS, launch Driver Talent again and select the Restore tab. Check all the drivers and then click on the Restore button to recover the old drivers.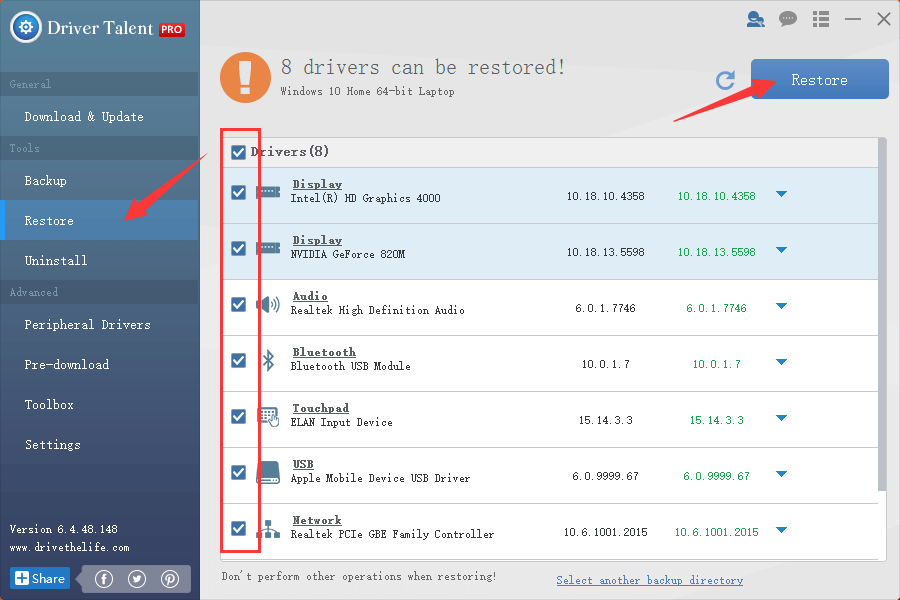 Now the drivers restore task completes easily and you can enjoy the new features on your PC. You can also use Driver Talent to update drivers, pre-download derivers, create system restore point, etc. and make your computer is running at its best.
If you have any questions about restore/recover drivers to a new Windows installation, please comment below to let us know. We'll be happy to help you.
Recommended Download