4 Ways to Fix BSOD Error Kmode_Exception_Not_Handled in Windows 10
Jun. 24, 2022 / Updated by Bessie Shaw to Windows 10
Encountering the BSOD error Kmode_Exception_Not_Handled in Windows 10? Don't be irritated. The Kmode_Exception_Not_Handled code problem could be provoked by outdated or missing drivers, corrupted files, antivirus software, etc.. Here are a couple of ways to fix the Kmode_Exception_Not_Handled code issue.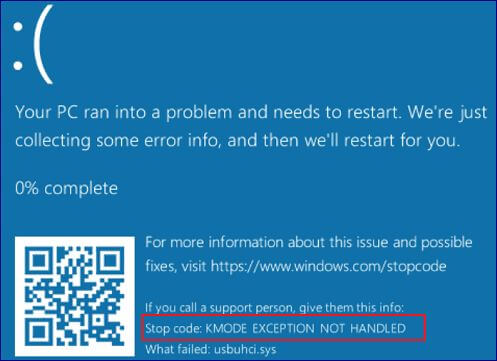 Way 1. Update Device Drivers to Fix Error Kmode_Exception_Not_Handled in Windows 10
The BSOD error Kmode_Exception_Not_Handled in Windows 10 could be triggered by outdated or missing device drivers. Updating drivers could be the effective method to fix the Kmode_Exception_Not_Handled code problem. The quickest and easiest way to update drivers is adopting a professional driver update utility tool, such as Driver Talent, which could identify your problematic drivers in seconds and then automatically download and install the best-matched version in 2 minutes.
Click the button below to free download Driver Talent directly.
Follow the step-by-step guide to download and install the right drivers with Driver Talent to get rid of the BSOD error Kmode_Exception_Not_Handled in Windows 10.
Step 1. Scan Your PC
Launch Driver Talent. Click the "Scan" button to scan your computer to identify all your outdated, corrupt, broken or missing drivers in seconds.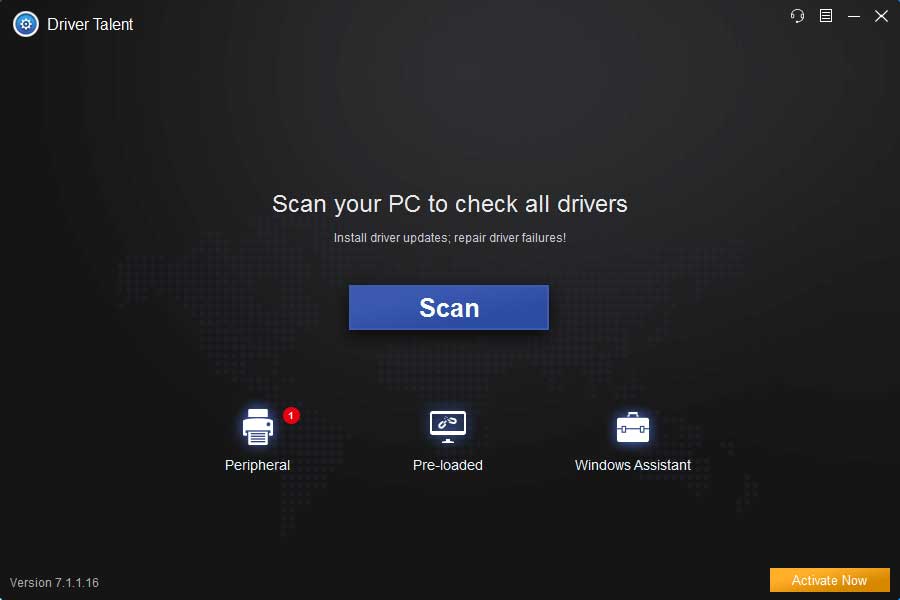 Step 2. Update Device Drivers
One-click "Repair" to fix the problematic drivers automatically. Driver Talent will download and install the most compatible version behind the scenes. You also have the option to click "Update" to update all your drivers to the latest version. Don't update what ain't broken for stability performance.
Step 3. Reboot Your PC
Reboot your PC to allow all driver updates to come into effect.
You may also like to check out:
Note: Bear in mind that back up you drivers with Driver Talent before installing any driver updates in case of driver crashes.
Aside from driver download and update, Driver Talent offers far more advanced features, such as drivers restore, drivers uninstall, drivers pre-download for another PC, PC Repair Tool(Audio Repair, Game Repair, etc.), hardware detection, etc..
Way 2. Repair Corrupted Files to Resolve BSOD Error Kmode Exception Not Handled in Windows 10
Corrupted files are also responsible for the BSOD error Kmode_Exception_Not_Handled in Windows 10. You could use the built-in System File Checker to check for corrupted files. Follow these steps:
Step 1. Right-click the Start button, then select Command Prompt (Admin).
Step 2. Enter sfc/Scannow.
Note: There's a space between sfc and /.
Step 3. Follow the on-screen commands to complete the process.
The System File Checker will take a few minutes to fix the corrupted Windows files.
Way 3. Uninstall Antivirus Software
The BSOD error Kmode_Exception_Not_Handled in Windows 10 can also be caused by some antivirus software. It has been proved that McAfee antivirus software is one of the culprits. Therefore, you'd better uninstall McAfee antivirus from your computer.
Way 4. Disable Windows Defender via Registry
If you're using HP laptops or desktops and encountered the Kmode_Exception_Not_Handled BSOD error in Windows 10 after installing the latest cumulative update, this method could work for you.
Recently, many HP users have complained that their PCs are getting the "Kmode_Exception_Not_Handled" blue screen error which leads to a reboot loop. The HP official issued a statement after confirmation that the problem was caused by Windows Defender. There is a conflict between Windows Defender and HP components.
According to HP Support Japan, system restore is a provisional measure to get rid of this error. But it doesn't seem to work for everyone. Don't worry. In this case, disabling Windows Defender via Registry might help you. Take these steps:
Step 1. Type "Windows Security" into the search box on the taskbar, and then select Windows Security in the list of results.
Step 2. In Windows Security, select Virus & threat protection and then select Manage settings under Virus & threat protection settings.
Step 3. Turn off the Tamper Protection setting.
Step 4. Open Registry Editor and head to HKEY_LOCAL_MACHINE\SOFTWARE\Policies\Microsoft\Windows Defender.
Step 5. Right-click on Windows Defender and select New > DWORD (32-bit) Value. Then a new key will appear in the right.
Step 6. Name the new key "DisableAntiSpyware" and hit Enter.
Step 7. Double-click on the new key and change its value from 0 to 1.
Step 8. Right-click on Windows Defender again and add a new key named "Real-Time Protection".
Step 9. Right-click on the "Real-Time Protection" key and add the following new DWORD (32-bit) values one by one and set their values to 1:
DisableBehaviorMonitoring

DisableOnAccessProtection

DisableScanOnRealtimeEnable
Apply the changes when you're done. And then the Windows Defender is successfully disabled.
If you keep having the blue screen error, you can't enter the system at all. To enter the system, you can try to uninstall the recently installed cumulative update first. Please refer to the method in this post: How to Uninstall Windows 10 Quality Updates via Advanced Start-up.
Update: HP has launched a new version of software components for its laptop users. Users will no longer get a blue screen after upgrading to the latest version of HP software components.
If you have any problems about the BSOD error Kmode Exception Not Handled in Windows 10, please feel free to post them in the comments section below.
Recommended Download