Fix: DRIVER IRQL_LESS_OR_NOT_EQUAL Error
Jun. 24, 2022 / Updated by Bessie Shaw to Windows 10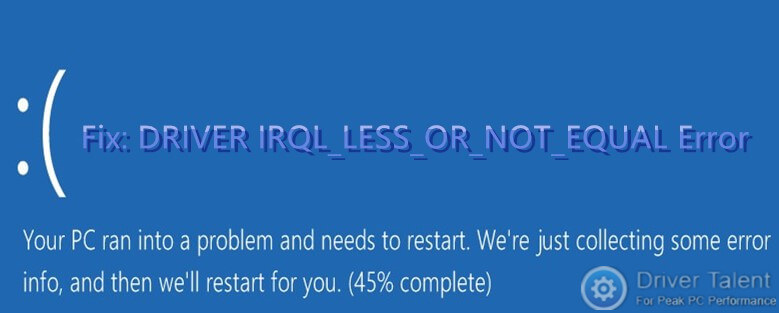 Some users reported DRIVER IRQL_LESS_OR_NOT_EQUAL error after they installed the cumulative update KB4284835 for Windows 10 April 2018 Update (also known as Windows 10 version 1803). This error code always comes with a Blue Screen of Death (also known as blue screen or BSoD) issue.
Foremost among the reasons for this error are the corrupted, outdated or incompatible drivers and corrupted system files. Some files related with DRIVER IRQL_LESS_OR_NOT_EQUAL error will be shown together to indicate the faulty drivers, such as ndis.sys, netio.sys, tcpip.sys, rtwlane.sys and athw8x.sys. You can try to troubleshoot the error according to these file names. Several workable methods are described in this post for your reference.
Note: Due to the DRIVER IRQL_LESS_OR_NOT_EQUAL error, you may not access the Windows normally. You can boot your computer into Safe Mode at first. Take the steps in this post: How to Enter Safe Mode to Fix Windows 10 Boot Loop/Blue Screen/Black Screen.
Method 1. Repair or Update the Related Drivers
As we mentioned above, the main cause of DRIVER IRQL_LESS_OR_NOT_EQUAL error is the corrupted or outdated drivers. Therefore, the first workaround to this error is to repair or update the related drivers. You can make out the faulty drivers according to the related file names. Then try to repair them or update them.
Also Read:2 Ways to Update Outdated Drivers in Windows 10
However, if you have no knowledge about the inner working of computers, it's hard to find out which driver should be in charge. Don't be dejected. Here is an easier method for you. You can download and install Driver Talent to help you.
Driver Talent is a professional and reliable driver management utility. It can help you detect, repair, install and update your drivers quickly and safely with easy operation. No matter you are computer novices or computer experts, you will quickly learn how to operate it.
There are free trial version and professional version. Click on the download button below to gain it immediately. No virus. Then you can do as follows to fix the DRIVER IRQL_LESS_OR_NOT_EQUAL error.
Step 1. Launch Driver Talent and click on the Scan button to perform a full scan on your computer.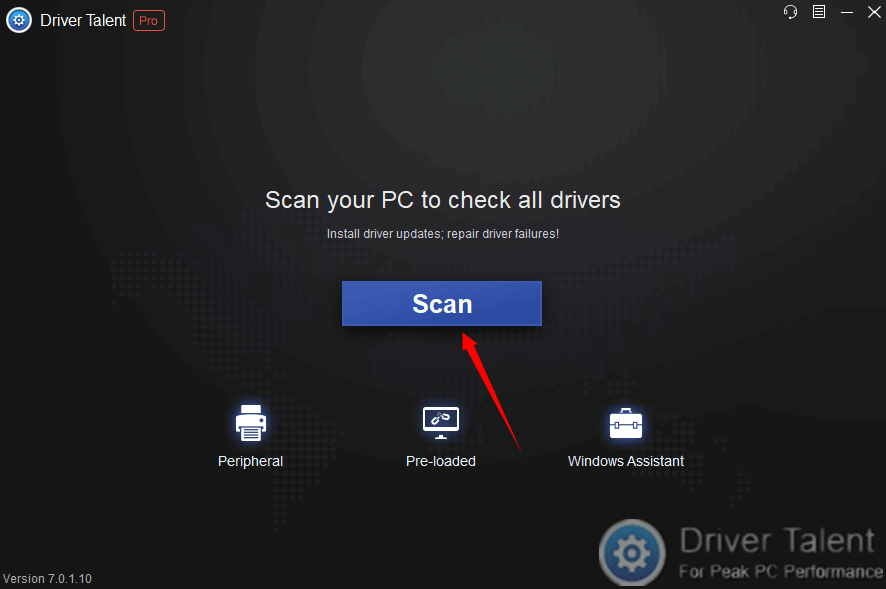 Step 2. After the scanning, all the corrupted, outdated and missing drivers will be listed. Just click the Repair button on the right of the driver to repair it or click the Update button to update it.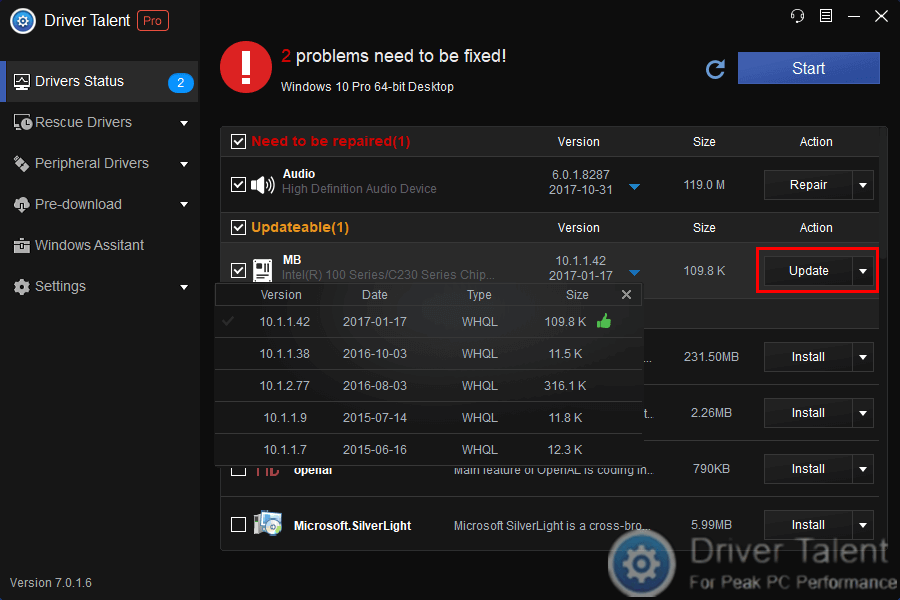 Step 3. Close the Driver Talent after finished the repair and update. Then reboot your computer to see whether the error is resolved.
Method 2. Reset the PC to Troubleshoot the Error
If it's not a driver problem, then you may need to reset the PC to fix the error. But notice that this method will delete all the installed programs and files as well as all your settings. You'd better back up your important data at first. It is also recommended to back up drivers with Driver Talent. To reset the PC, you can refer to the steps below.
Step 1. Press Windows + I to open Windows Settings.
Step 2. Click on Update & Security.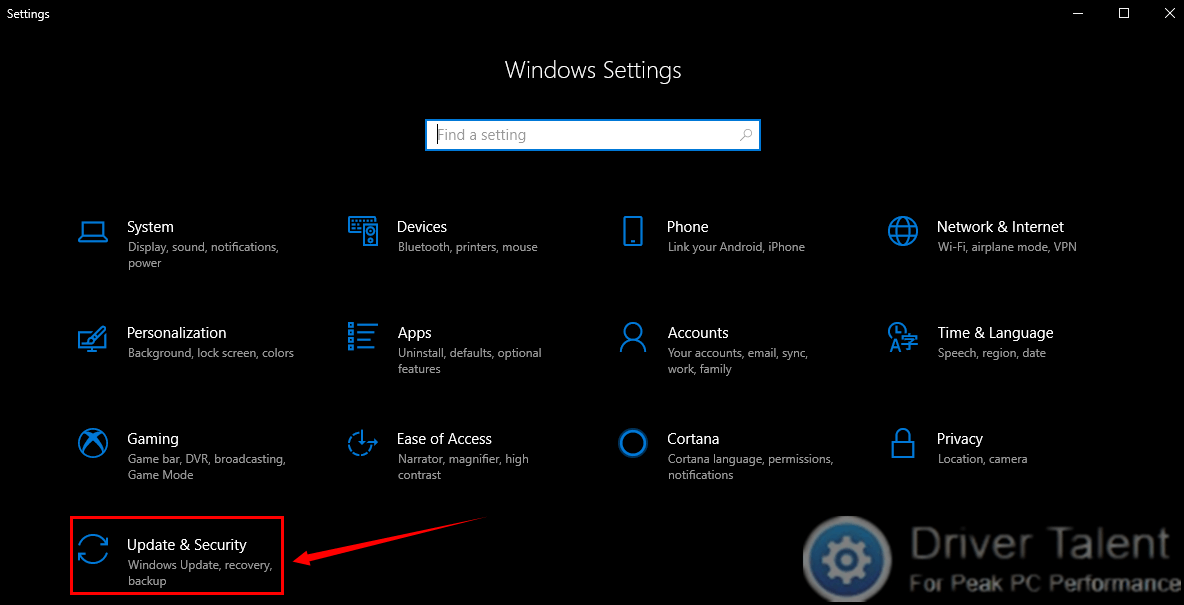 Step 3. Go to the Recovery tab and click on Get started under Reset this PC.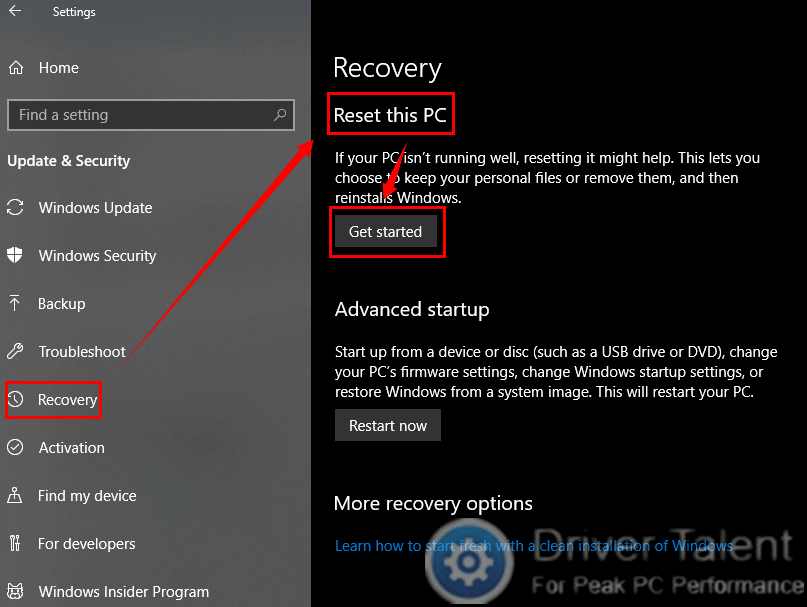 Step 4. Select Remove everything to reset your PC.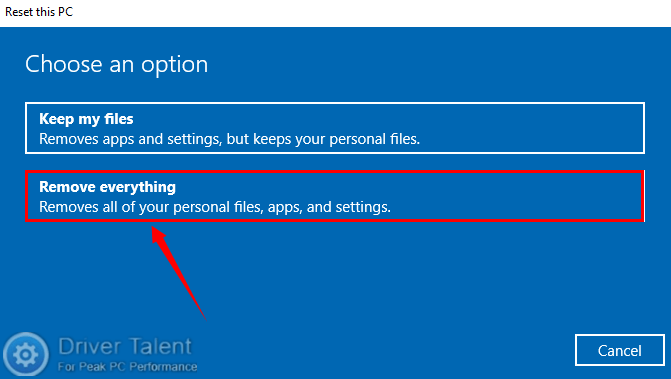 Method 3. Perform System Restore to Fix the Issue
If you don't want to reset your PC and you have created a system restore point before, you can try to fix DRIVER IRQL_LESS_OR_NOT_EQUAL error by performing system restore. Then your system configuration will be reverted back to the previous working state where the Windows is working normally. This post is for your reference: How to Use System Restore to Fix Windows 10 Issues.
Hope this article is useful for you to fix the DRIVER IRQL_LESS_OR_NOT_EQUAL error. If the methods above work, please share them with your friends to help more people. You can also share your solutions in the comment section below. More solutions to BSoD issue can be accessed below:
Recommended Download