Top 5 Ways to Fix Memory Management Error in Windows 10
Jun. 24, 2022 / Updated by Bessie Shaw to Windows 10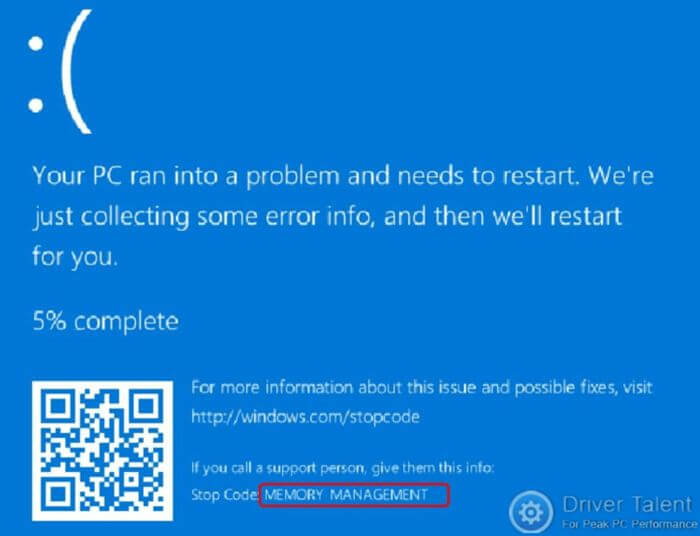 Run into the memory management issue in Windows 10 along with the blue screen error? Don't be frustrated. Here are top 5 ways to fix the memory management on your Windows 10 PC.
If you can't access Windows normally, try to enter Safe Mode with Networking at first. Refer to the steps in this post: How to Enter Safe Mode in Windows 10, 8.1, 8, 7, Vista, XP.
Method 1. Run Windows Memory Diagnostic Tool to Fix Memory Management Error in Windows 10
Once the memory management error appears in Windows 10, you may consider whether your RAM memory is corrupt. You could run the Windows Memory Diagnostic Tool to find out whether the memory management problem is caused by your faulty memory. Follow these steps:
Step 1. Go to Search, type "Windows Diagnostic Tool" and select Windows Memory Diagnostic Tool from the listed results.

Step 2. Click Restart now and check for problems, and Windows will check for your RAM problems.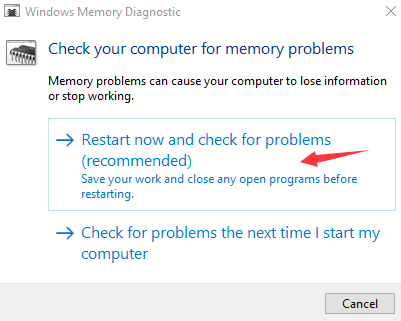 Step 3. Once your Windows restarts, it will tell you if there is something wrong with your memory. If there is, you need to replace your bad RAM with a new one.
Method 2. Run SFC Scanner
It's been proved that running the SFC Scanner could be one of the workable fixes for the memory management error in Windows 10. To run the SFC Scanner, do the following steps:
Step 1. Right-click the Start button and select Command Prompt (Admin).
Step 2. At the command prompt, type sfc /scannow and press Enter.
Note: There's a space between "sfc" and the forward slash.
Step 3. The SFC Scanner will run through your whole system to detect errors. The process will take a period.
Step 4. Reboot your computer.
Method 3. Disable Conflicting Software
The memory management error in Windows 10 could also be software-specific. A conflict between two software programs could prompt the memory management BSoD error on your Windows 10 computer. If you some software installed recently and then the memory management problem occurs, you could try to disable your recent software to see if the problem disappears.
Method 4. Update Device Drivers
Corrupt or outdated drivers could also be a root of the memory management error in Windows 10. To solve the driver-related issue, you need to repair and update your Windows 10 drivers. Manually downloading and updating all your drivers can be complicated and time-consuming. Installing a wrong driver or an incompatible driver version can make your memory management problem more terrible.
Due to time and complexity involved in updating drivers, it is highly recommended to try a reputable driver update utility tool like Driver Talent, which could automatically repair or update the faulty drivers associated with your memory management error in minutes.
Click the button below to grab Driver Talent directly. No time wasted.
Take the 3 easy steps to use Driver Talent to download and update drivers to fix the memory management error in Windows 10, applied to Acer, Asus, Dell, Lenovo, HP and all other brand PCs. For more details, you could refer to the User Guide of Driver Talent.
1. Scan Your Computer
Launch Driver Talent and make a safe scan of your whole computer by clicking the "Scan" button. Driver Talent will reveal all your problematic drivers in a list.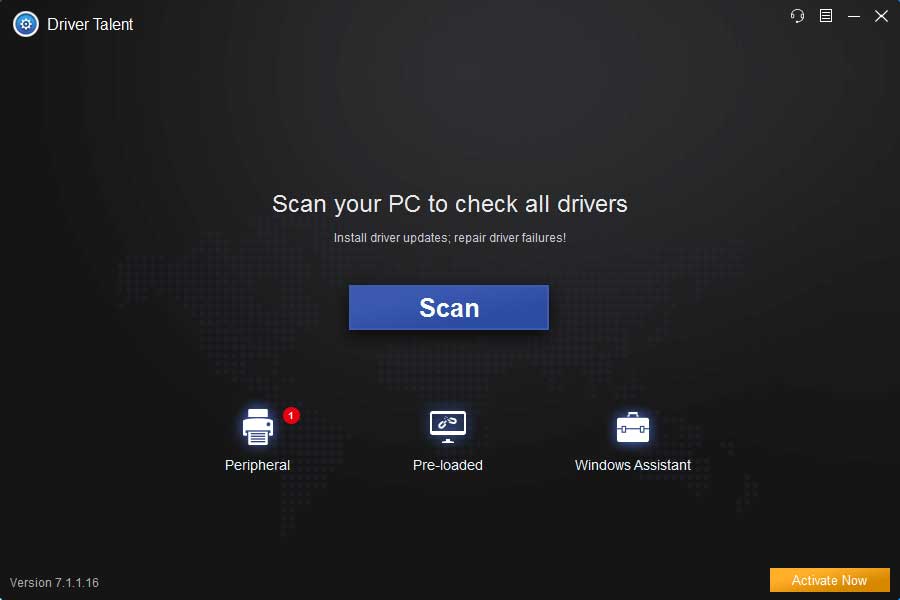 2. Download and Update Drivers to Fix Memory Management Error in Windows 10
Once there are outdated, corrupt, broken or missing Windows 10 device drivers, you could click "Repair" to fix them. Driver Talent will automatically download and install the best-matched version for your computer. You also have the option to click "Update" to update all your hardware drivers to the newest version. But don't update what ain't broken for stability purpose.
3. Restart Your Computer
Reboot your computer to allow the driver updates to take effect after the installation process is complete.
Note: Keep in mind that use Driver Talent to backup your drivers before updating your drivers in case of driver crashes.
Apart from being a dedicated driver download and update software application, Drive Talent comes packed with far more advanced features, such as drivers restore, drivers uninstall, drivers pre-download for another PC, PC Repair Tool(Audio Repair, Game Repair, etc.), hardware detection, etc..
Method 5. Scan for Viruses & Malware
The memory management error could also be related to viruses and malicious programs. If your computer is infected by viruses or malware, your computer will freeze randomly or suffer a reboot loop. Therefore, you could use your anti-virus application to run a full malware scan and delete the detected viruses or malware.
You may also like to check out:
If you discover additional solutions to fix memory management problem in Windows 10, welcome to share with us in the comments section below.
Recommended Download