How to Install Drivers without Activating Driver Talent
Jun. 24, 2022 / Updated by Helia to Windows Driver Solutions
Driver Talent allows all users to download correct and safe drivers online in both the Free version and Pro version while installing the drivers automatically for a PC with the Pro version only. Users need to activate it to the Pro version to enjoy the one-click solution. Then some users may wonder if they can install drivers without activating Driver Talent. The answer is yes. It's just a little bit more complicated.
Here's a quick guide on how to install drivers with Driver Talent Free version. What's more, remember to read the following tips first.
Installation Tips:
1. You may need to temporarily turn off the security software to prevent it from blocking the driver installation.
2. Please save your work and quit other running programs before you update the graphics/display/video driver, as black screen and program crashes may occur during the update.
3. The network may be temporarily disconnected when updating the network card driver.
How to Install Drivers with Driver Talent Free Version?
After you download the proper driver you need with the Driver Talent Free version, you'll be prompted to install it. Select Yes to continue. Then do as follows. The steps below will guide you through the installation process.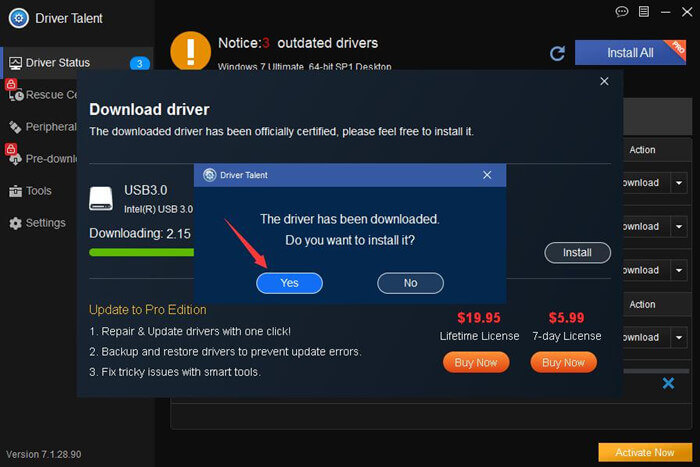 Step 1: Locate the driver file you've downloaded from Driver Talent
Click the Open Folder button to open the driver file location.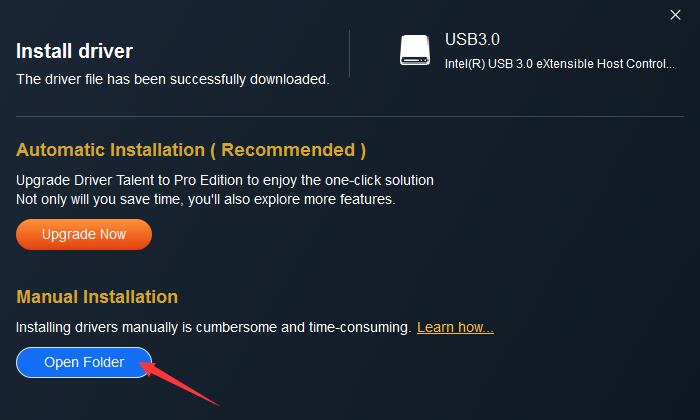 In the DriversDownload folder, locate the driver file in .exe format or .7z or .zip format.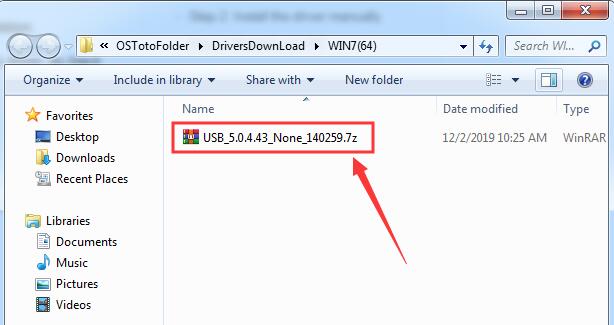 Step 2: Install the driver manually
There are 2 possible scenarios for you to install the driver from the DriversDownload folder of Driver Talent.
1. Install Driver in .exe Format
If you find the file in .exe format or setup.exe, you can double click this file and follow the instruction on the screen to install the driver directly.
2. Install Driver in .7z or .zip Format
If you find the file in .7z or .zip format, you need to unzip the file first. Then locate the .exe file or setup.exe in the unzipped folder, and double-click on it to install.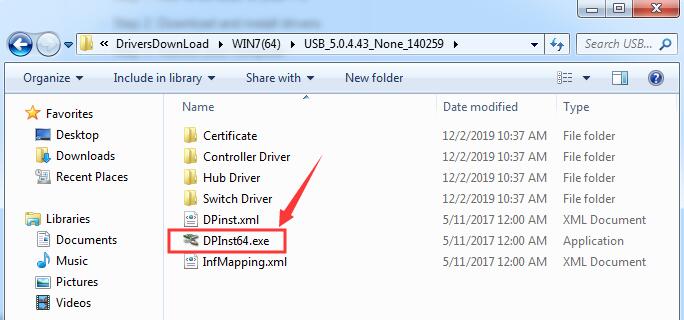 If you can't find the setup.exe or any .exe file in the unzipped folder, you are supposed to see a .inf file, which is not an executable application.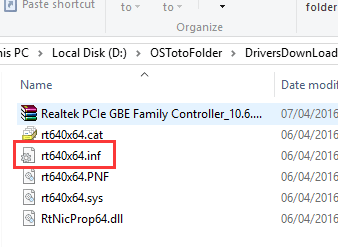 It may be a little complicated for you to install the driver in .inf format. You need to take these steps:
1) Launch Device Manager and locate the device that you are going to install the driver for.
2) Right click the device and select Update Driver Software….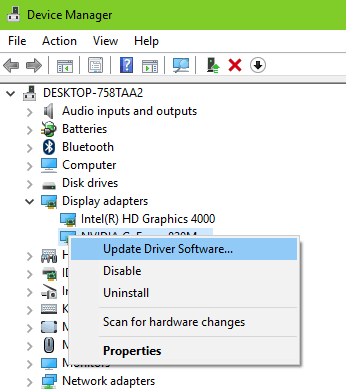 3) Click Browse my computer for driver software, and then select Let me pick from a list of device drivers on my computer.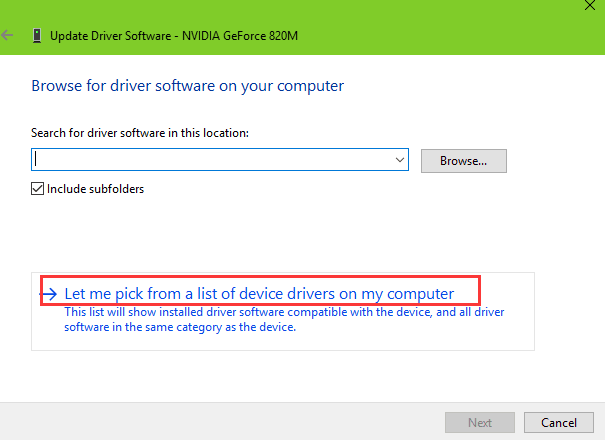 4) Choose the manufacturer and the model from the box (if applicable), and then click Have Disk….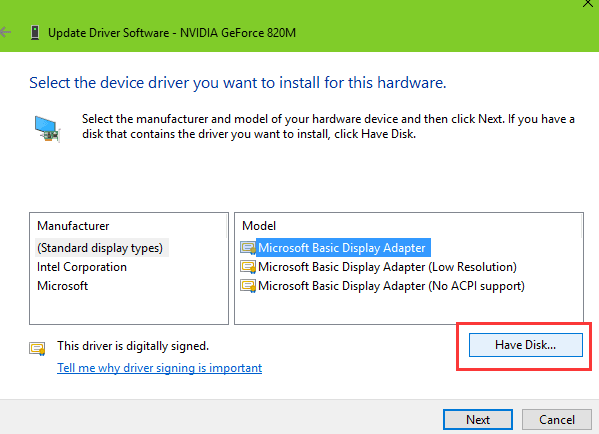 5) Copy the path where the .inf file is saved and paste it into the box. (You can also click Browse... to locate the .inf file in the DriversDownload folder.) Then click OK to install the driver.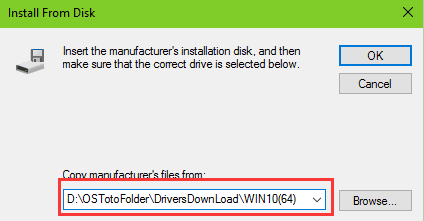 You are also allowed to install drivers in .inf format from the command line. Run Command Prompt as Administrator and type the following command into it:
C:\> rundll32 syssetup,SetupInfObjectInstallAction DefaultInstall 128 .\(the file).inf
Step 3: Restart your PC
Restart the computer to let the installed driver take effect.
As you can see, it's never easy to install drivers manually even by following the detailed steps. It's cumbersome and time-consuming. What a terrible experience. Therefore, it's not recommended to install drivers manually. We recommend you to use Driver Talent Pro version and enjoy the one-click solution. It will free your hands from manual driver installation.
How to Install Drivers in One Click?
Upgrade Driver Talent to the Pro version, and you won't have to download and install printer driver, audio driver, graphics driver, etc. one by one. Here's how to install drivers automatically.
Step 1: Run a full scan of your PC
Click Scan to find out all the problematic drivers on your PC.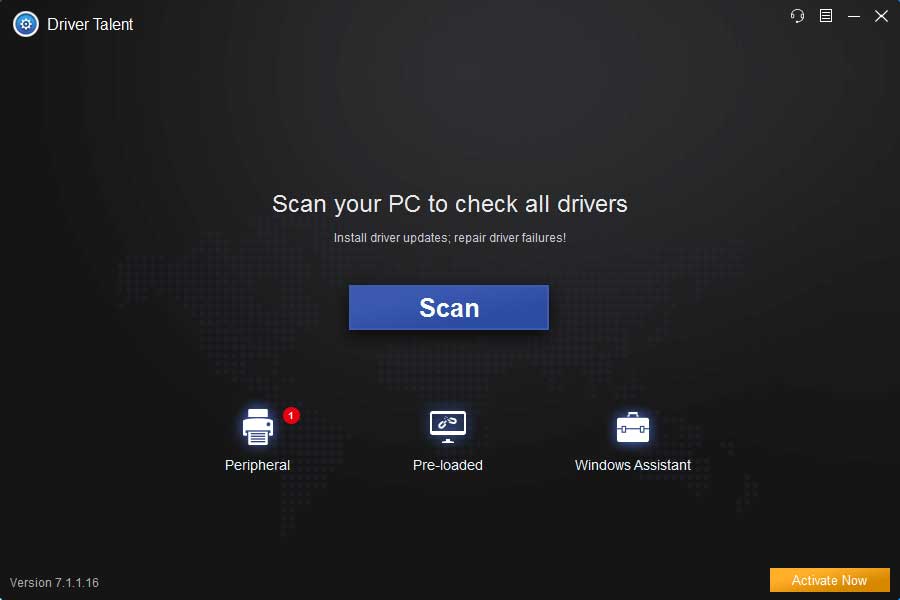 Step 2: Download and install drivers
You can click Install All to have all updatable drivers updated and all missing drivers installed automatically. Or you can click the Download button on the right of the specific driver you need. The Driver Talent Pro version will automatically download and install it for you.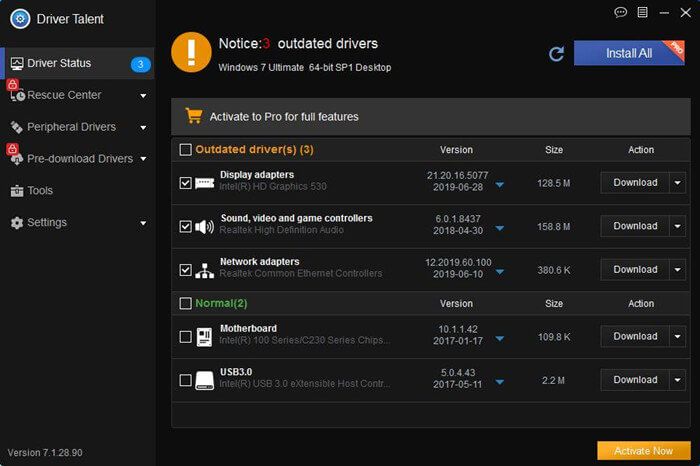 Step 3: Reboot your computer
Driver Talent will remind you to reboot your PC after it finishes the driver installation.
That's how to install drivers with Driver Talent Pro version.
Bonus Tip: Now there's a Referral Hunt campaign for Driver Talent. Don't miss it if you or your friends plan to purchase Driver Talent Pro. Not only can you save money for your friends, you also have the opportunity to get free license keys. What are you waiting for? Get your family and friends join in right now.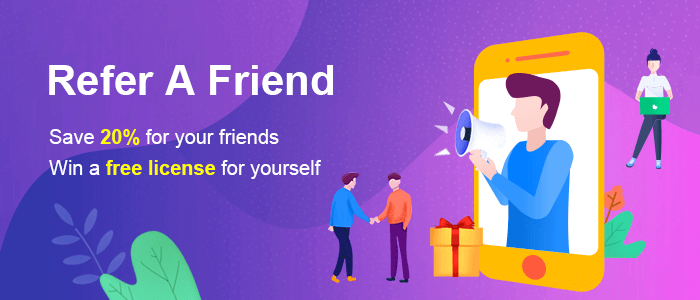 Besides, you can also back up drivers, restore drivers and fix system issues with the Driver Talent Pro version. For more information, please read:
If you have any questions on how to install drivers with/without Driver Talent, or you fail to install a driver with it, leave comments below to let us know. To get more useful computer tips, you can visit the Resource section on this site.
Recommended Download