Top 4 Fixes for Touchpad Not Working after Windows 10 Creators Update Issue
Jun. 24, 2022 / Updated by Wendy to Windows 10
Touchpad not working after Windows 10 Creators Update apparently becomes a hot concern as one of the most common Windows 10 Creators Update problems. Touchpad errors like Synaptics touchpad not working, Asus Smart Gesture not working, HP touchpad not working in Windows 10 after the Creators Update has hindered lots of users enjoying a set of dazzling new additions and bug fixes that the Creators Update for Windows 10 brings us.
Read More:How to Upgrade to Windows 10 Creators Update
The reason that why the touchpad scrolling function becomes not available after Upgrading to Windows 10 Creators Update or the Fall Creators Update can be varied. But for most cases, the irritating buggy trackpad on Windows 10 issues are triggered by software and driver compatibility issues. And your HP, ASUS, Acer, Dell or any other brand touchpad driver may become incompatible with the new Windows 10 CU (V1703) build after the upgrade.
If you are looking for workarounds to troubleshooting Windows 10 touchpad not working after Creators Update, below are several tricks for your reference.
See Also:
Method 1. Use Windows Function Keys to Fix Touchpad Not Working Bug after Windows 10 Creators Update
When encountering the touchpad glitches moving or no respond error in Windows 10 Creators Update, the first thing you should try is to see if your laptop has the Windows function key that enables/disables the touchpad since the installation of Windows 10 CU may disable your trackpad scrolling function occasionally.
Depending on your laptop's or touchpad's model, the Windows keys you should press simultaneously vary from one to another brand. The following combinations are some common function keys that can enables/disables the touchpad in Windows 10: Fn + F5 / Fn + F6 / Fn + F9 / Fn + F3. Try toggling those them to get rid of the touchpad can't scrolling woes.
Method 2. Modify Touchpad Settings to Revive Unresponsive Touchpad for Creators Update
If your laptop doesn't feature a touchscreen display, then you will need to use a mouse to revive the unresponsive touchpad on Creators Update.
1. Follow the path: Start button >Settings >Devices >Mouse & touchpad option >Additional mouse options.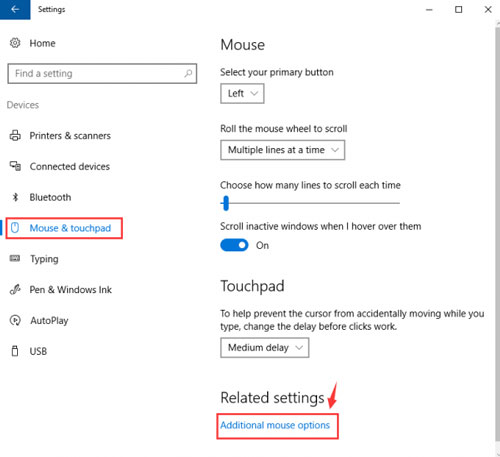 2. Then the Mouse Properties window will open. Go to the tab that names your laptop's touchpad, usually named the brand + touchpad model, such as Dell Touchpad. If you don't see such a tab, turn to a tab labeled Device Settings or ELAN where you can find your touchpad listed under Devices.
3. Click on that touchpad to select it, and then click the Enable button.
Method 3. Update Trackpad Drivers to Get Your Touchpad back to Normal Functioning
As mentioned above, the trackpad drivers could be outdated, missing or corrupted after Windows 10 Creators Update. To exclude that likelihood, you just need to update your touchpad driver to fix its malfunction.
To update the driver for your touchpad, you can head to your laptop manufacturer's website to find and manually download the correct touchpad driver for Windows 10 Creators Update/ Fall Creators Update, version 1709. Or if you prefer an easy-and-quick touchpad driver update channel, you may choose a trustworthy touchpad driver update utility, such as Driver Talent, to download and install the official WHQL Windows 10 trackpad drivers for Creators Update.
Read More:Driver Talent Review on Engadget
Click the download button below to get Driver Talent seamlessly.
Follow the 3 steps to update your touchpad driver and figure out the driver related touchpad hitches on Creators Update.
1. Scan for Problematic Drivers
Click "Scan" to check whether your touchpad driver is compatible with Windows 10 Creators Update. Driver Talent will show you the list of all the outdated, missing, broken drivers installed on your computer.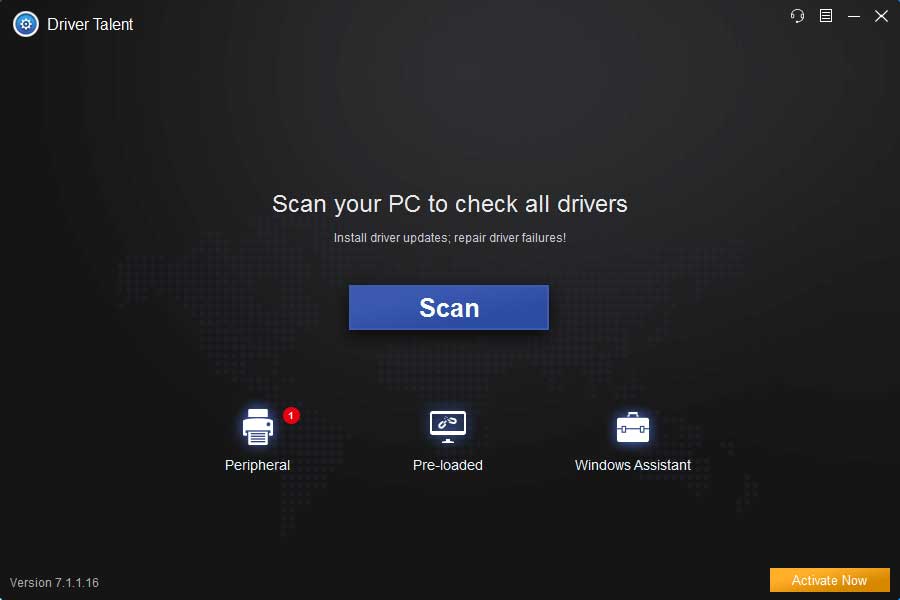 2. Update the Touchpad Driver for Windows 10
Note: In case you want to roll back to any previous driver version later, you'd better backup drivers before performing any driver's updating.
Click "Repair" to fix the incompatible trackpad drivers by downloading the best-matched ones. You are also able to update them to the latest version by clicking "Update".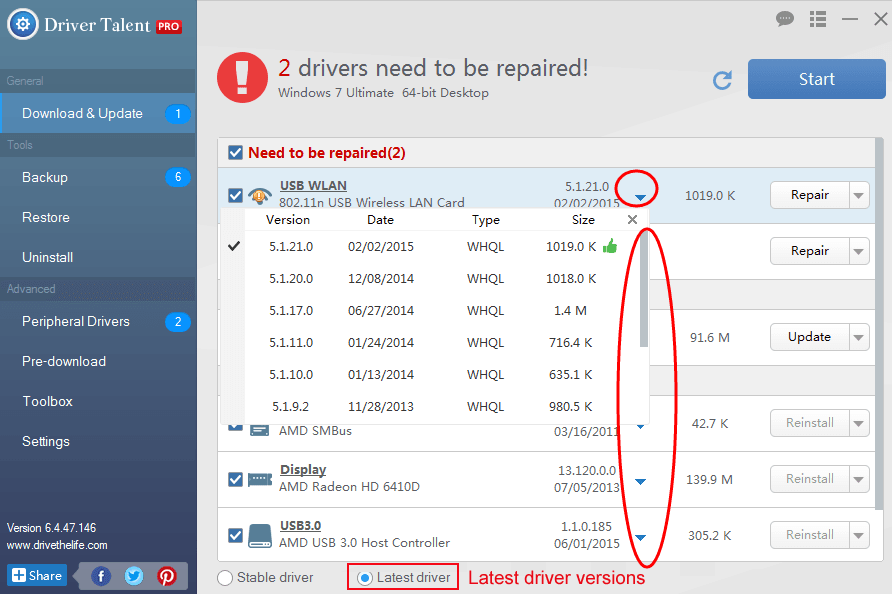 3. Reboot Your Computer
Reboot your computer to make the newly installed touchpad driver and other device drivers come into effect.
Method 4. Roll back to Previous Windows Build to Resolve Touchpad not Working Error
If the above 3 solutions failed to fix your buggy trackpad and still the touchpad scrolled with no response on Windows 10 CU, you can revert to the Previous Windows OS where your touchpad uses smoothly.
1. Click Win + I to open Settings.
2. Click Update & Security >Recovery >Advanced startup >Restart now >Troubleshoot.
3. Select the Go back to the previous build option.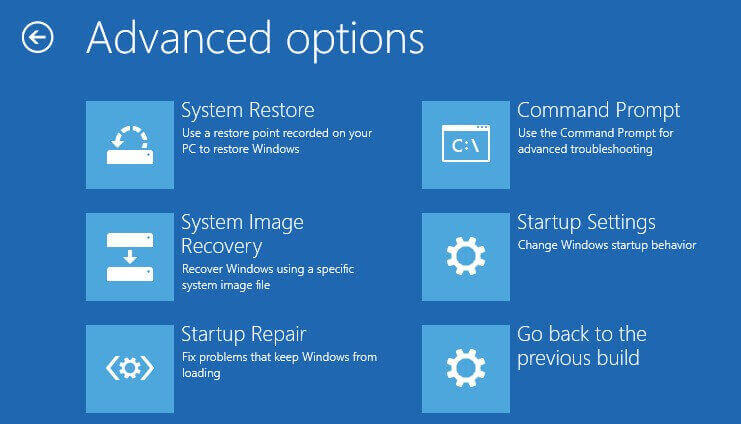 Here you choose which Windows version you want to restore and then follow the on-screen tutorials to complete the rollback which could help to eliminate Windows 10 touchpad disabled issues after the Creators Update.
Common touchpad-related problems and fixes:

Hope the solutions in this post help you to dispose of the trackpad not working trouble or other Windows 10 touchpad issues after Creators Update. If you have more workarounds on fixing touchpad errors after Windows 10 Creators Update, please share with us in below comments section or go to the OStoto official forum for further discussion.
Recommended Download