Windows 10 KB4038788 Update Improvements, Bugs and Fixes
Jun. 24, 2022 / Updated by Wendy to Windows 10
KB 4038788, the cumulative update for Windows 10 Creators Update (Version 1703, OS Build 15063.608) has been released by Microsoft on the patch Tuesday, September 12, 2017.
This KB4038788 patch aims to fix many known bugs, say the start menu malfunction, color profile keeps resetting error, file explorer not working and more for the Windows 10 V1703, Build 15063.608 and previous updates like the KB4034674, released last month, August 8th and enhance the system's stability. While on the other side, it also brings a host of issues such as the Windows getting a black screen after login, PC slow, BSoD, install stuck etc. Let's take a comprehensive look at the changelog of Windows 10 KB4038788 update and its consequent issues: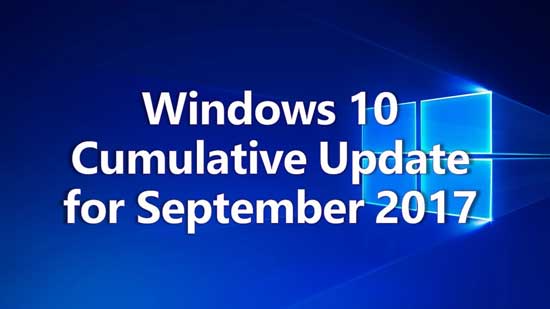 Read More:
Fix Windows 10 Creators Update Install Stuck Issue
Key Improvements and Fixes in KB4038788 Update
KB4038788 update includes no new OS features but the improvements and bug fixes as below:
Addressed issue where the color profiles do not revert to the user-specified settings after playing a full-screen game.

Updated HDR feature to be turned off by default in the OS.

Addressed issue where you can't open the Start menu when you add a third-party IME.

Addressed issue with scanners that rely on inbox driver support.

Addressed issue in a Mobile Device Manager Enterprise feature to allow headsets to work correctly.

Addressed issue where some machines fail to load wireless WAN devices when they resume from Sleep.

Addressed issue where Windows Error Reporting doesn't clean up temporary files when there is a redirection on a folder.

Addressed issue where revoking a certificate associated with a disabled user account in the CA management console fails. The error is "The user name or password is incorrect. 0x8007052e (WIN32: 1326 ERROR_LOGON_FAILURE)".

Addressed issue where LSASS is leaking large amounts of memory.

Addressed issue where enabling encryption using syskey.exe renders the system unbootable.

Updated the BitLocker.psm1 PowerShell script to not log passwords when logging is enabled.

Addressed issue where saving a credential with an empty password to Credential Manager causes the system to crash when attempting to use that credential.

Updates to Internet Explorer 11's navigation bar with search box.

Addressed issue in Internet Explorer where undo is broken if character conversion is canceled using IME.

Addressed issue with the EMIE where Microsoft Edge and Internet Explorer repeatedly switched between each other.

Addressed issue where a device may stop responding for several minutes and then stop working with error 0x9F (SYSTEM_POWER_STATE_FAILURE) when a USB network adapter is attached.

Addressed issue where some apps cannot be opened because the IPHlpSvc service stops responding during the Windows boot procedure.

Addressed issue where spoolsv.exe stops working.

Addressed issue where the Get-AuthenticodeSignature cmdlet does not list TimeStamperCertificate even though the file is time stamped.

Addressed issue where, after upgrading to Windows 10, users may experience long delays when running applications hosted on Windows Server 2008 SP2.

Addressed RemoteApp display issues that occur when you minimize and restore a RemoteApp to full-screen mode.

Addressed issue that sometimes causes Windows File Explorer to stop responding and causes the system to stop working.

Addressed issue that causes the Export-StartLayout cmdlet to fail when exporting the layout of tiles at startup.

Addressed issue where the option to join Azure AAD is sometimes unavailable during the out-of-box experience.

Addressed issue where clicking the buttons on Windows Action Center notifications results in no action being taken.

Re-release of MS16-087- Security update for Windows print spooler components.

Security updates to Microsoft Graphics Component, Windows kernel-mode drivers, Windows shell, Microsoft Uniscribe, Microsoft Edge, Device Guard, Windows TPM, Internet Explorer, Microsoft Scripting Engine, Windows Hyper-V, Windows kernel, and Windows Virtualization.
See Also:
Windows 10 Version 1703 Update History
How to Install the Windows 10 KB4038788 Patch
You can get this cumulative update through the Windows Update:
1. Click the Start and then type Windows Update to open it.
2. Choose Check for updates.

3. Select Install Updates.
4. Following the on-screen instructions to complete the update.
You are also able to download KB4038788 update via Microsoft Update Catalog.
1. Go to Microsoft Update Catalog and find the KB4038788.
2. Download the .msu file according to your Windows OS type.
3. Locate the folder where you've saved the file just now.
4. Run the .msu file and follow the on-screen instructions to install the KB4038788 update.
After several PC Restarts, you will complete the install, and then you can check what the KB4038788 patch fixes.
Back Up Drivers and Update Drivers for Windows 10 KB4038788 Update
It is recommend to back up important drivers before upgrading to any Windows OS to avoid driver-related computer issues like video stuttering, AMD errors, bluetooth issues etc. since device drivers sometimes can be incompatible with the new OS. You can use Driver Talent to do so, a professional driver manager which is trusted by over 3,000,000 users, 200 countries and areas. Click the botton below to get Driver Talent directly.
1. Click "Scan" to make a thorough detection for all the Windows 10 drivers installed on your computer.
2. Turn to the Backup menu in the left pane.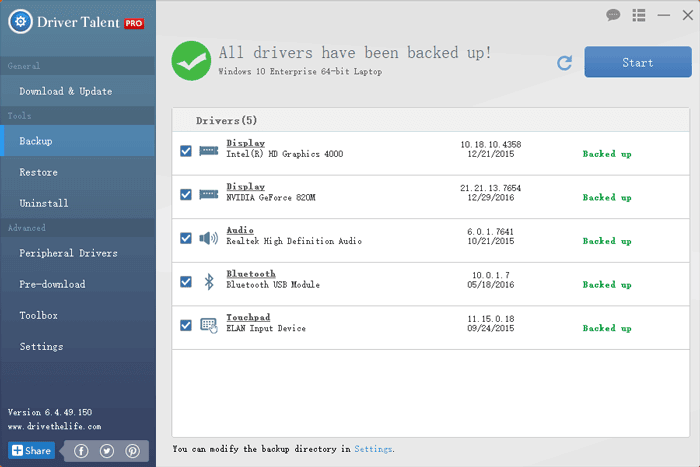 3. Tick the drivers you want to back up and then click "Start" to proceed the backup.
Note: If there are incorrect drivers installed on your Windows 10 PC, they will be listed after the "Scan". You can select either Repair or Update to get the proper drivers.
Known Bugs in Windows 10 KB4038788 Update
Many issues also pop up after the KB4038788 Update, below are some main bugs.
Windows 10 Black Screen after Login on KB4038788 Update
Except for the lifelong installation process or the KB4038788 failed to install bug, many Windows 10 users are reporting Windows boots to black screen after signing in after the KB4038788 Update is installed, namely the KB4038788 black screen.
Possible Fixes:
Fix Black Screen with Cursor after Windows 10 Creators Update
Black Screen on Windows 10 Issue
Black Screen Issue after Windows 10 Anniversary Update
PC Slow after Windows 10 KB4038788 Update
If your computer becomes lagging or extremely slow after installing the KB4038788 download, you may like to refer to the posts: Fix PC Slow on Windows 10 Creators Update and Fix Windows 10 Mouse Lagging/Freezing/Stuttering.
Microsoft Edge Crashes after Windows 10 KB4038788 Update
If Microsoft Edge keeps crashing in the KB4038788 Update, you could have a look at the post: Fix Microsoft Edge Not Working on Windows 10 Creators Update
Blue Screen after KB4038788 Cumulative Update
For blue screen errors after you get KB4038788 Cumulative Update, please see Top 8 Ways to Fix Blue Screen after Windows 10 Creators Update
If you have any doubt related to Windows 10 KB4038788 download or update, leave us comments below. You can also click the SUPPORT BUTTON on the left of this page or turn to our OStoto official forum for further discussion. If you get Windows driver-related issues, see Driver Issues and Fix. For Windows 10 specific problems and methods, check the Windows 10 Common Errors column for troubleshooters.
Recommended Download