Fix: Windows Rollback Loop after Windows 10 April 2018 Update 1803
Jun. 24, 2022 / Updated by Bessie Shaw to Windows 10
"I am stuck on this blue screen which says Windows rollback after Windows 10 1803 update. I tried to restart my PC, but it didn't work. What can I do?" - From Reddit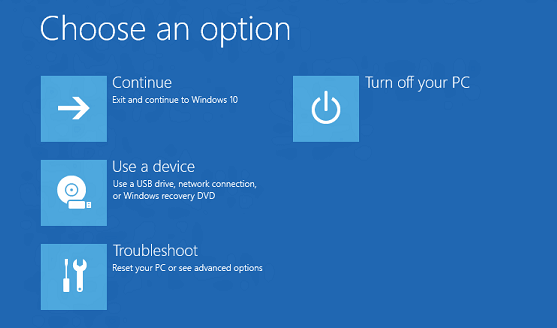 Are you also stuck in rollback loop on your computer after April 2018 Update 1803. There is a blue screen asking you to exit and continue to Windows 10 or to troubleshoot. In some cases, no matter how many times you restarted the computer, the rollback loop screen was still there. If so, this post may do you a favor. Read on and follow the methods below.
Method 1. Run SFC /Scannow Command to Detect Corrupted System Files
Windows rollback loop after Windows 10 Update 1803 is usually caused by broken or missing system file error or disk error. To have rollback loop fixed, you can try to run SFC /Scannow command to detect the broken or missing system files at first. Take the following steps:
Step 1. Choose Troubleshoot on the "Choose an option" interface.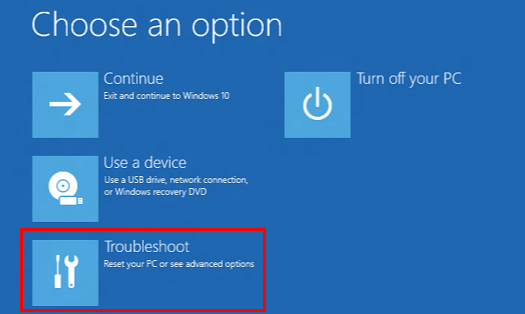 Step 2. Select Advanced options, and then choose Command Prompt.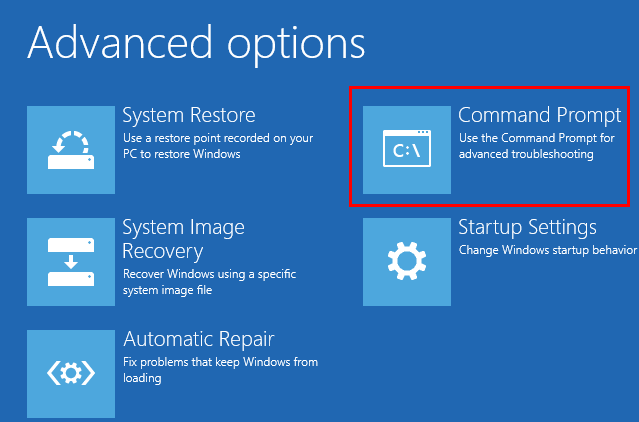 Step 3. Type "sfc /scannow" in the command prompt and press Enter.

Windows 10 will automatically scan the system and fix the broken system files after you press the Enter button. This process may take some time. Reboot your computer after this process is finished.
Method 2. Run CHKDSK Command to Check Disk Error
Disk error is also the culprit of Windows rollback loop after Windows 10 April 2018 Update. In this case, you can try to run CHKDSK command to check if the hard disk is damaged. Do as follows:
Step 1. Boot into Command Prompt. You can follow the steps in Method 1.
Step 2. Type "chkdsk /f /r" in the command prompt and press Enter.

Then Windows 10 will check your hard disk and resolve disk errors automatically. Last but not least, do not forget to reboot your computer to take effect.
Bonus Tip: More information about the CHKDSK command, please refer to: How to Use CHKDSK Command to Check Disk Error in Windows.
Method 3. Update Your Avast Antivirus to the Newest Version
According to some users, they suffered Windows rollback loop on the updated 1803 system with Avast antivirus installed. It is caused by an element of the Avast Behavior Shield which conflicts with the April 2018 Update. Now Avast has released an update to prevent this issue from occurring. So to fix this issue, make sure your Avast antivirus is updated to the newest version.
Method 4. Reinstall Windows 10 to Troubleshoot Windows Rollback Loop Issue
If the above methods do not work for you, you need to think about reinstalling your Windows 10 or restoring your Windows 10 to a previous stage. To reinstall Windows 10, you can refer to: How to Reinstall Windows 10 on Your Desktop or Laptop.
Note: Remember to back up your important data and create a system restore point before you make any changes on your computer.
After you reinstall Windows 10, you need to download and install all drivers for the new system again. Refer to: Free Download and Install Drivers after Window 10 Update.
If you don't want to download and install the drivers manually by yourself, it's highly recommended to use a free driver download and install utility, like Driver Talent, which can help you download and install your drivers to the latest or best-matched version quickly and safely.
Click the download button below to get Driver Talent directly and take the easy steps below:
Step 1. Launch Driver Talent and click Scan to perform a full scan on your computer.
Step 2. Check all the listed drivers and click Start to have all the drivers your computer needed downloaded an installed. It will also repair your broken drivers.
Step 3. Reboot your computer to take effect.
Feel free to leave comments below if you find this post helpful to fix Windows rollback loop after Windows 10 April 2018 Update 1803. More solutions to other issues after Windows 10 1803 update can be accessed below:
Recommended Download