Fix Asus Laptop Keyboard Not Working after Windows 10 Update
Jun. 24, 2022 / Updated by Daphne to Windows 10
Encounter the Asus laptop keyboard not working issue after Windows 10 Update (Fall Creators Update 1709 or Spring Creators Update 1803)? Here are some effective solutions to help you fix the Asus laptop keyboard stopped working problem, also applied to HP, Dell, Lenovo, Acer, Toshiba, Lenovo, MSI, Samsung and other brand PCs.
Fix Asus Laptop Keyboard Not Working after Windows 10 Update
1: Check hardware problems
The hardware personnel may cause the keyboard on the ASUS laptop to not work properly. You can troubleshoot the following hardware:
Step 1. Check the keyboard battery
Battery problem is one of the possible hardware factors.
1. Turn off the laptop.
2. Remove the battery from the laptop.
3. Wait a few seconds, and then connect the laptop directly to the AC power cord.
4. Restart the laptop, and then check if the keyboard works.
Step 2. Check the USB connection (USB keyboard)
If you are using a USB keyboard, please check if the USB connection is working properly.
You can try to unplug and replug the keyboard to reconnect. Or, you can plug the keyboard into another USB port and see if it works.
Step 3. Check the wireless adapter (wireless keyboard)
If using a wireless keyboard, make sure that the wireless connection is normal. Move the keyboard closer to the wireless receiver.
2. Update Asus Keyboard Driver
In many cases, the Asus laptop keyboard doesn't work because of the outdated keyboard driver. There's a risk of downloading the Asus keyboard driver on the Internet, and the wrong driver could result in more severe PC issues. To save you time and frustration, it's highly recommended to use a reliable driver update application like Driver Talent to scan for and find out all your faulty drivers in seconds and then automatically download the right Asus keyboard driver. All the Asus drivers are collected from the official source (Asus website and Microsoft) and they are safe and well tested.
Click the download button below to grab Driver Talent directly. No viruses. No trojans.
Follow the 3 easy steps to use Driver Talent to update the Asus keyboard driver on your PC.
Step 1. Scan Your PC
Run Driver Talent. Click "Scan" to list all your outdated, corrupted or broken drivers, including the Asus keyboard driver.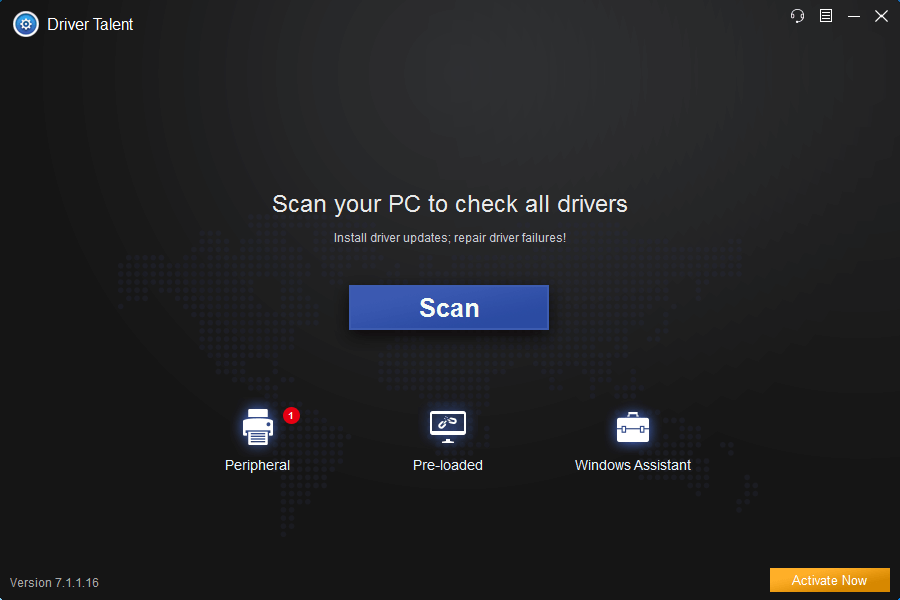 Step 2. Update the Asus Keyboard Driver
Click "Update" to download and install the latest Asus keyboard driver. Click "Repair" to fix corrupt or broken drivers in minutes.
Step 3. Reboot Your PC

Reboot your PC to make the Asus keyboard driver update take effect.
Apart from the driver update, Driver Talent includes further features, such as drivers backup, drivers restore, drivers uninstall, system restore, drivers pre-download for another PC, PC Repair (no sound, no video, no Wi-Fi available, etc.), DLL files repair, hardware detection, VR support check and PC speed up, etc
3. Uninstall and Reinstall the Asus Keyboard Driver
If your Asus keyboard driver is faulty, the Asus laptop keyboard not responding issue could crop up. You could uninstall it first and then reinstall it.
Step 1. Right-click Start and click Device Manager.
Step 2. Locate Keyboard and expand it.
Step 3. Right-click on the keyboard name and click Uninstall.
Step 4. Reboot your PC and Windows will reinstall the keyboard driver for you automatically.
4. Unplug everything first and Hold the power button for 60 seconds
A PC reboot may be the easiest fix for the Asus laptop keyboard not working glitch. If you also come across the mouse not working issue and can't reboot the PC. There is a helphul way from other's comments, just hold down the power button for about 15 seconds to turn it off and then turn on your PC to check whether your keyboard works. Your laptop should power on/off real quick after it does that, let go of the power button and then push it again like you'd normally turn it on. Hope this will help someone.
See Also: How to Fix Keyboard Not Working on Windows 10 Laptop
If the above-mentioned fixes can't help you fix your Asus laptop keyboard not working issue after Windows 10 update, leave comments below for further assistance. Any other drivers download and update, like network driver, mouse driver, Bluetooth driver, 802.11n WLAN driver, Dolby audio driver, USB Type-C driver, please check the Windows Driver Solutions section.
Recommended Download