Fix: Failure Error 0x80070643 on Windows 10 Update KB4054517 Build 16299.125
Jun. 24, 2022 / Updated by Helia to Windows 10
Many Windows 10 v1709 users have kept receiving an error code 0x80070643 since installing the Cumulative Update KB4054517. The OS build will be 16299.125 once the install completes. But in fact, the update has been a failure since the Patch Tuesday, 12/12/2017, and users can still get the build number 16299.125 after the "failed" update.

"I've installed 16299.64 in November, but when my Windows 10 version 1709 updated to 16299.125, it got an error code of 0x80070643 on the KB4054517 Cumulative Update."
"My PC is stuck in installation loop of KB4054517 and it displays an error 0x80070643. Any idea?"
"Can't stand it anymore! My computer has been trapped in random restarts since the release of KB4054517! How can I get back my lost files!"
In this case, it seems users have installed the update but they still notice the error 0x80070643 in Settings. And some of them get random restarts due to the Windows update in December 2017.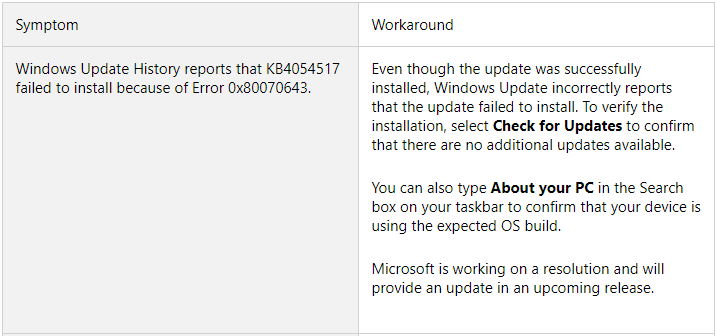 This is a widespread problem which affects all computers running Windows 10 Fall Creators Update (v1709). Luckily, the Redmond giant rolled out another new update to save those machines. Earlier than usual, the Cumulative Update KB4056892 (v1709 Build 16299.192) was released on Jan. 3th, 2018, fighting against the Meltdown and Spectre Intel CPU security vulnerability.
Another Crashes Wednesday? Maybe. Some users has reported that computers with older processors will run even slower after installing the update.If you don't want to experience one more reboot loop, PC slow issue, high CPU usage problem, no WiFi available error or other bugs due to the latest Windows update, you can see How to Disable Automatic Windows 10 Update for solutions.
Read More:How to Disable Windows Update on Windows 10 on a Laptop
Let's back to the error code 0x80070643. This Windows 10 guide will show you how to solve the "KB4054517 update failure".
How to Fix Windows 10 Error 0x80070643 due to KB4054517 Update Failure
Generally, you can follow the top 3 methods below to back a more stable Windows 10 OS build or get rid of the error 0x80070643:
Method 1. Try System Restore on Windows 10
System restore helps to roll the Windows OS back to a stable state of a previous point. You won't lose any of your personal data except for drivers or other applications installed after the restore point was made. If you encounter the error message 0x80070643 during installing the Cumulative Update KB4054517 for Windows 10 version 1709, and if you've created a system restore point, then you can roll back the system to an earlier date.
If you're looking for steps to make it, see How to Use System Restore to Fix Windows 10 Issues
Method 2. Uninstall KB4054517 Update (16299.125) and Back to the Early Windows OS Build
It is irritating to get the random reboots every day, but there's no system restore point on Windows 10. In this case, you can remove the KB4054517 update and back to the early state, which may be in 16299.15 or a lower OS build like that.
1. Use Windows shortcut keysWin + R to launch Run.
2. Type into appwiz.cpl and hit the Enter to open Program and Features.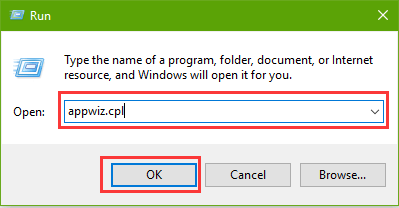 3. On the left side, click the View installed updates.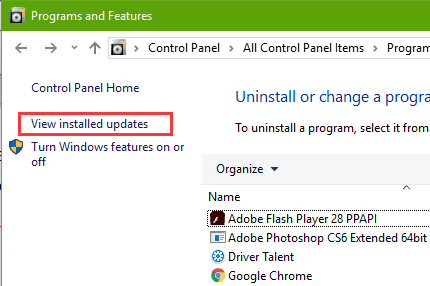 4. Scroll down to Microsoft Windows. Right-click the KB4054517 update, which causes the error 0x80070643, and then select Uninstall.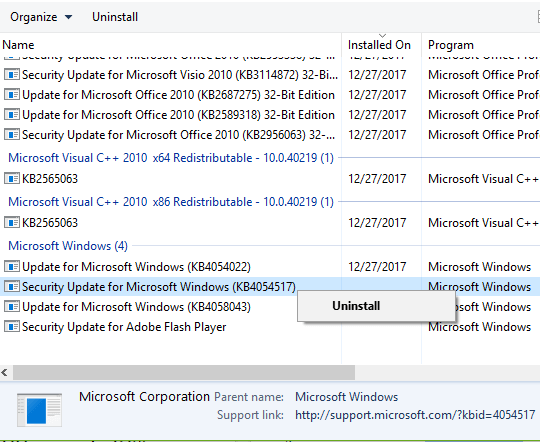 5. Restart the computer.
Then you'll back to the early status of Windows 10. To ensure the high-performance of the computer, it is recommended to install proper Windows 10 update.
See Also:How to Fix Windows Update Errors on Windows 10, 8, 7, Vista, XP
Method 3. Manually Install KB4056892 Update (Build 16299.192) or Back to KB4048955 (Build 16299.64)
You can also try installing the latest KB4056892 (OS Build 16299.192) update which has been released on January 3, 2018. This update, also called Post Meltdown patch, was released due to the recent disclosure of vital vulnerabilities in some CPUs. If your computer is running an older Intel CPU, it may get stuck in low-performance. So we don't recommend such computers to install the update but install the most stable OS Build 16299.64 or turn to the Cumulative Update KB4058258 (OS Build 16299.214).
Install KB4056892 Update (Build 16299.192)
If you are going to update to KB4056892, firstly, you need to uninstall the culprit of error 0x80070643, KB4054517, with the same steps in Method 2. Then go the steps below to install the latest update:
1. Use shortcut keys Win + I to open Settings in Windows 10.
2. Go to the Update & security menu.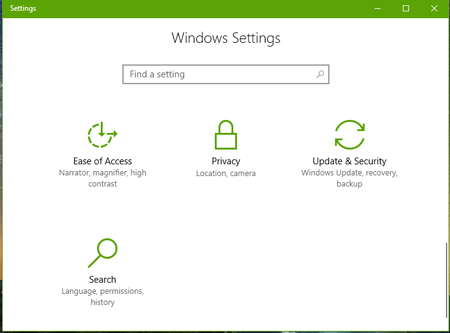 3. On the right side, click Check for updates. Windows 10 will detect the latest cumulative update and download and install it for your computer.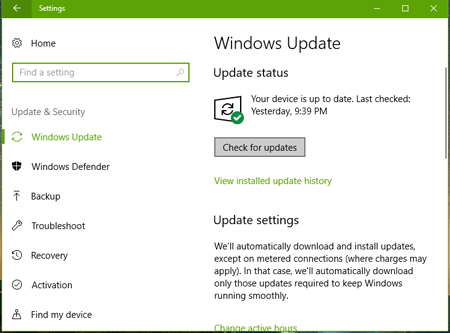 If you fail to get the update, you can also download it from Microsoft Update Catalog website and install it manually.
Install KB4048955 Update (Build 16299.64)
For computers with older Intel processors, installing the KB4048955 update is a good choice:

1. Remove KB4054517 update (build 16299.125) with the same steps in Method 2.
2. Go to Microsoft Update Catalog website and download KB4048955 update.
3. Install the update and restart to make the changes take effect.
Thus you've completely fixed the error 0x80070643 triggered by the Windows 10 cumulative update.
Don't Forget to Create a System Restore Point and Update Drivers
Create a System Restore Point
After the upper or lower OS build install, your Windows 10 is now in a stable status. It is important to create a system restore point in case the PC runs into a similar problem again.
Also, if you've updated to KB4056892, you need to update the Windows drivers that compatible with the latest Windows update. If you've rolled back to OS build 16299.64, it is necessary to check drivers.
Update Drivers after Fixing Error 0x80070643
You can manually download proper driver updates from your PC brand official sites. But if you prefer a one-click solution, we recommend you use Driver Talent, which has been reviewed as the intelligent software by engadget. It provides the latest official or WHQL hardware device drivers that compatible with most of the Windows OS, including (32-bit or 64-bit) Windows 10 Fall Creators Update and its predecessors.
Here are 3 easy steps to quickly update your drivers:
1. Click the Scan button to detect if there are outdated or incompatible Windows drivers on the computer.
2. Click the Update or the Repair button to download and install the compatible drivers.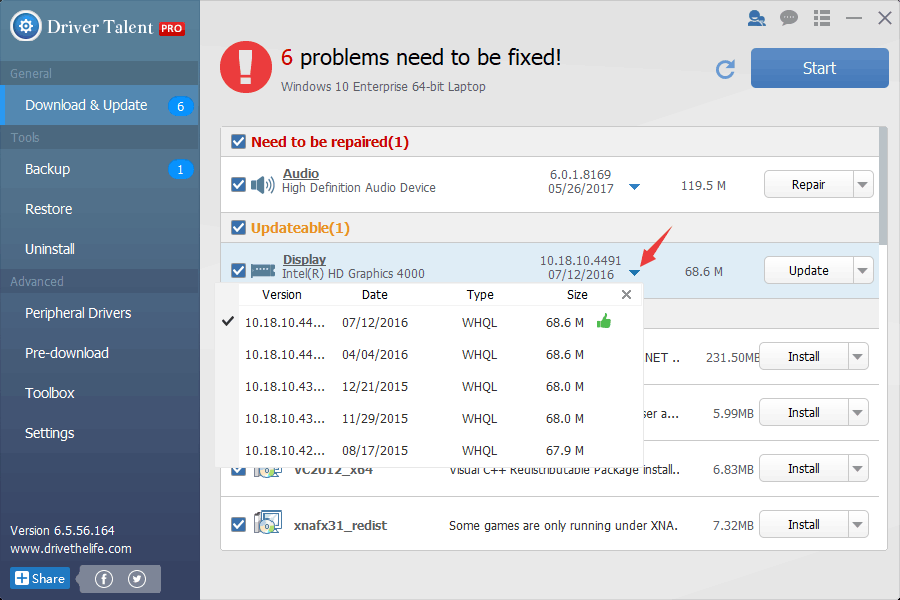 3. After that, restart the PC to make the driver changes take effect.
Related Posts:
That's it. This is how to troubleshoot the error code 0x80070643 bug due to Windows 10 KB4054517 Cumulative Update. If you still fail to solve the "KB4054517 install failure", or if you encounter other issues after the latest Windows 10 updates, you can comment below or click the tech support menu on the left of this page for more help. Any other Windows 10-related issues please check solutions in Windows 10 section on this site.
Recommended Download