Microsoft Is Rolling Out Passwordless Sign-in Option
Jun. 16, 2022 / Updated by Vivi to News
Microsoft has been saying that the future is passwordless, and until March 2021, it announced that the passwordless sign-in option was generally available for commercial users, which has brought the feature to enterprise organizations worldwide.
On September 15 2021, Vasu Jakkal from Microsoft announced that now users could completely remove the password from the Microsoft account. With the Microsoft Authenticator app, Windows Hello, a security key, or a verification code which is sent to their phones or emails, users will be able to sign in to the Microsoft apps and services, such as Outlook, OneDrive, and Family Safety. According to Vasu, this passwordless sign-in feature will be rolled out over the coming weeks.
As for the reason for the invention of this feature, Vasu Jakkal and Bret Arsenault explained that weak and reused passwords are a prime target for attacks around the world. To protect users' privacy and wealth, the passwordless sign in is a good measure.
Here are the steps to go passwordless:
1.Install the Microsoft Authenticator app.
2.Link the Microsoft Authenticator app to your Microsoft account.
3.Visit your Microsoft account and sign in.
4.Choose Advanced Security Options.
5.Find the Additional Security Options.
6.Locate the Passwordless Account and select Turn on.

7.Follow the on-screen prompts and approve the notification.
After this, you will be able to access to Microsoft apps and services without using the password.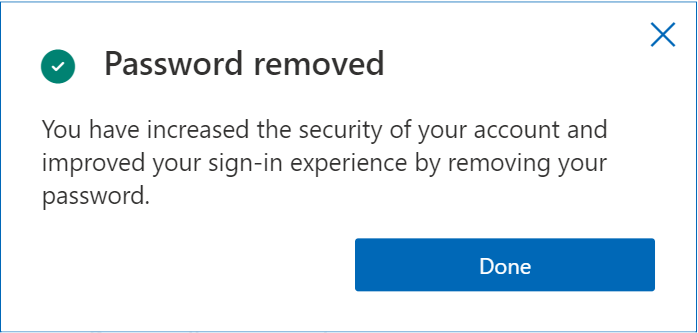 Note that you are always able to add the password back to your Microsoft account as long as you want.
Other articles you may also be interested in:
1. Microsoft's Windows 11 Launch Event: Things You Should Know
2. Windows 11 Was Made for PC Gamer
3. Windows 10 Coexists with Windows 11
4. Upgrading Windows 7 to Windows 11 Requires Extra Steps
5. Dislike Windows 11? You Can Easily Move Back to Windows 10 within 10 Days
6. Microsoft Adds More CPUs to Windows 11 Compatibility
7. Start Menu & Taskbar Disappear? Here's How to Fix the Bug Caused by Windows 11 Beta and Dev Builds
8. Microsoft Increases the Windows 11 Minimum Requirements
9. Microsoft Is Rolling Out Passwordless Sign-in Option
10. Windows 11 Is Out: New Features of the New Operating System
11. How to Customize the Touch Keyboard on Windows 11
12. The First Windows 11 Update Makes AMD CPU Performance Even Worse
Recommended Download