Windows 11 Creates Hundreds of Temporary Folders in the System32 Directory
Jun. 16, 2022 / Updated by Vivi to Windows 11
Have you upgraded your device to Windows 11? This new operating system has been the hot topic among people around the world, not only for its new features, but also for the gradually discovered bugs.
These days, many users have noticed that, in the System32 directory, there are hundreds of temporary folders starting with "tw"and ending with ".tmp". These folders contain no files, so they won't take up much disk space and won't interfere with the operation of your system. In fact, this bug has appeared on Windows 10.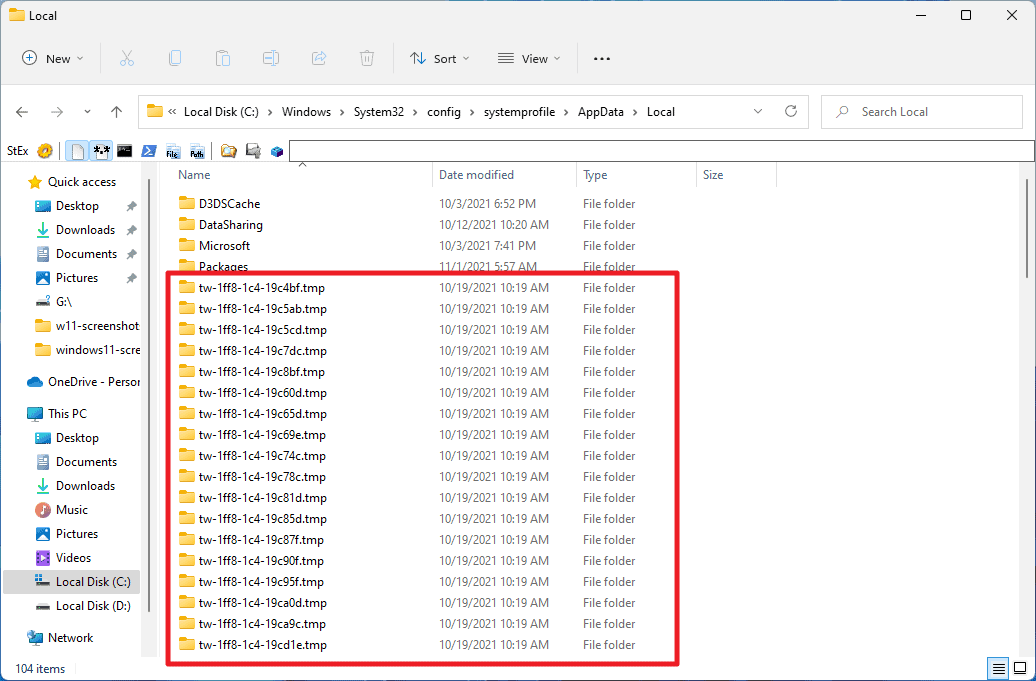 However, it is not a pleasant thing to accept their existence. So if you want to delete them, just do it. The deletion won't affect your operation system. Here you can follow the steps and check whether the empty folders exist in your System32 directory.
Step 1: open "File Explorer".
Step 2: navigate to the "Windows" folder.
Step 3: open "System32".
Step 4: click on "config"
Step 5: select "systemprofile"
Step 6: click on "AppData"
Step 7: open the "Local" folder.
After locating the folders, you can delete them as long as you want.
Things you may also be interested in:
1. Microsoft's Windows 11 Launch Event: Things You Should Know
2. Windows 11 Was Made for PC Gamer
3. Windows 10 Coexists with Windows 11
4. Upgrading Windows 7 to Windows 11 Requires Extra Steps
5. Dislike Windows 11? You Can Easily Move Back to Windows 10 within 10 Days
6. Microsoft Adds More CPUs to Windows 11 Compatibility
7. Start Menu & Taskbar Disappear? Here's How to Fix the Bug Caused by Windows 11 Beta and Dev Builds
8. Microsoft Increases the Windows 11 Minimum Requirements
9. Microsoft Is Rolling Out Passwordless Sign-in Option
10. Windows 11 Is Out: New Features of the New Operating System
11. How to Customize the Touch Keyboard on Windows 11
12. The First Windows 11 Update Makes AMD CPU Performance Even Worse
Company

Driver Talent is a professional Windows driver download and update utility from drivethelife.com, a professional team of OSToto Co., Ltd. Since the establishment in 2009, the team has been working hard to develop computer and Internet software so as to improve the work and lives of people. Our products are well received by people from all over the word.
Our Spirit
"User-centric Design, Technology Fundamental, Principles Open"
Our Products
Driver Talent, Driver Talent for Network Card, ExplorerMax
Recommended Download