How to Fix PAGE_FAULT_IN_NONPAGED_AREA BSoD Error
Jun. 24, 2022 / Updated by Bessie Shaw to Windows 10
"I'm clean installing Windows and every time it restarts during the installation, I get this error message and a constant loop of restart. Help please." – Quoted from Reddit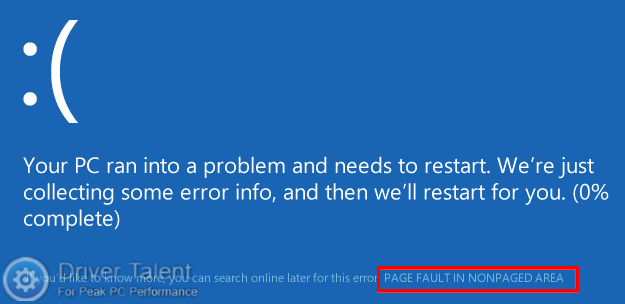 Recently, many users came across a BSoD stop code PAGE_FAULT_IN_NONPAGED_AREA on their computer screen. Similar with other BSoD stop codes like Bugcode_USB_Driver, DRIVER IRQL_LESS_OR_NOT_EQUAL, DPC_Watchdog_Violation and INACCESSIBLE_BOOT_DEVICE, PAGE_FAULT_IN_NONPAGED_AREA is also an annoying error. Users who unluckily encountered this error are unable to use their computers normally and even stuck in endless reboot loop. But don't worry. Every problem has a solution. Read on. This post will tell you how to fix PAGE_FAULT_IN_NONPAGED_AREA BSoD error.
First of all, if you are stuck in endless reboot loop or can't boot your computer normally, try to enter the Safe Mode with Networking to access the computer. This post is for your reference: How to Enter Safe Mode in Windows 10, 8.1, 8, 7, Vista, XP.
Fix 1. Run "chkdsk /f /r" Command to Detect Hard Disk Problem
To get rid of PAGE_FAULT_IN_NONPAGED_AREA error, the first thing you need to verify is if there is a hard disk problem. To do this, take the two easy steps below.
Step 1. Run Command Prompt as administrator.
Step 2. Type "chkdsk /f /r" into it and hit Enter to run it.
See Also:How to Fix CHKDSK /F/R Not Working after Windows 10 Creators Update
Fix 2. Run Windows Memory Diagnostic to Detect Memory Problem
PAGE_FAULT_IN_NONPAGED_AREA BSoD stop error is probably related with memory issue. Therefore, the second fix is to run Windows Memory Diagnostic, a built-in feature in Windows system, to diagnose memory problems. Do as follows:
Step 1. Launch Run dialog box by pressing Windows + R, and type "mdsched.exe" into the box and hit Enter to run it.
Step 2. Click on Restart now and check for problems.
Then Windows Memory Diagnostic will perform a full memory test automatically after the computer restarts. After finished the test, the computer will reboot again. And the test result will be shown after the reboot.
Fix 3. Run System File Checker to Detect Corrupted System Files
Sometimes it is necessary to perform a system file check to find out what the problem is. It will help us solve the problem productively. Take the following steps.
Step 1. Run Command Prompt as administrator.
Step 2. Type "sfc /scannow" into it and hit Enter to run it.
Then the system file checker will scan all the system files automatically. If there are any corrupted files, it will replace them with a cached copy located in a compressed folder.
Also Read:How to Fix Corrupted System Files with SFC /scannow in Windows
It's reported that corrupted drivers and outdated device drivers may also lead to PAGE_FAULT_IN_NONPAGED_AREA BSoD stop code. Therefore, if the fixes above don't take effect, you need to find out if there are any corrupted drivers or outdated drivers on your computer.
If you don't know what to do or you are just computer novices, don't be vexed. Driver Talent can be your best choice to help you solve all driver problems. It will detect all your corrupted, outdated or missing drivers automatically and repair or update them in minutes. Click on the Download button below to get it directly. No virus.
To repair or update drivers with Driver Talent, refer to the steps below.
Step 1. Launch Driver Talent and click on the Scan button. After a few seconds, all the corrupted, outdated and missing drivers will be listed.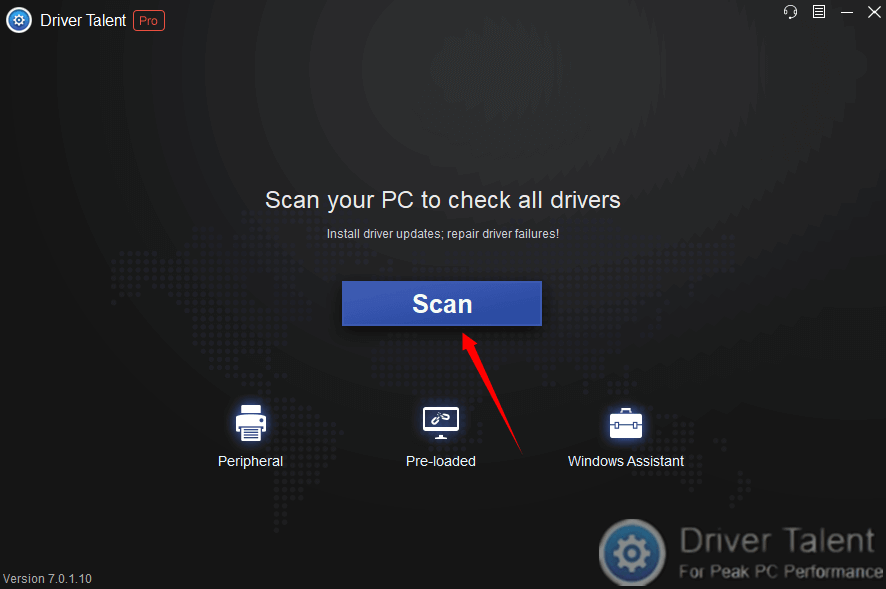 Step 2. Click the Update button on the right of the updatable drivers to update them and click the Repair button to repair the corrupted drivers.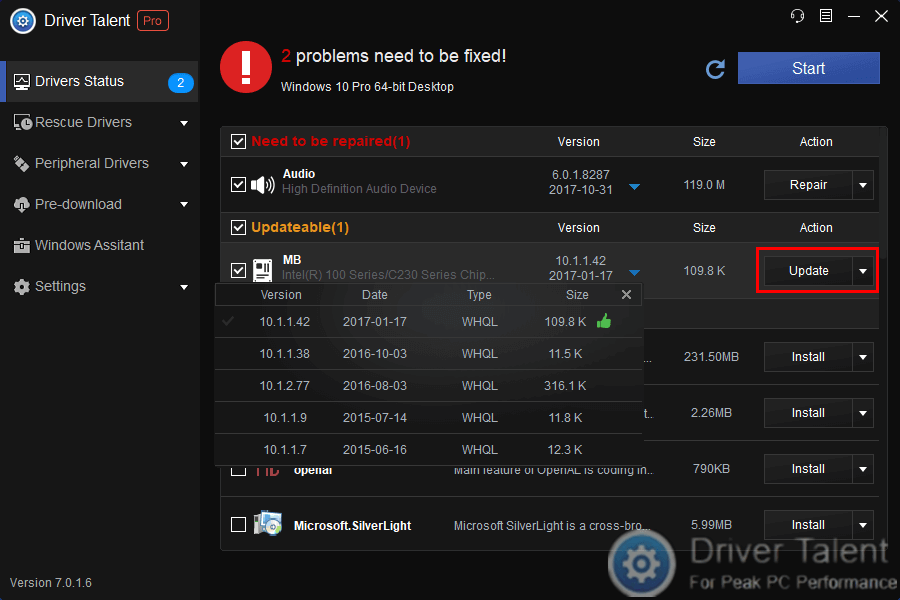 Step 3. Restart your computer to let the changes take effect.
You may also be interested in these related articles:
If you have any questions in the process of fixing PAGE_FAULT_IN_NONPAGED_AREA BSoD error, feel free to leave comments below to let us know. We will try our best to help you resolve the issue.
Recommended Download