How to Fix "Mouse Moving on Its Own" in Windows 10
Oct. 12, 2020 / Updated by Bessie Shaw to Windows 10
After the Windows 10 upgrade, some users encounter mouse problems like mouse moving on its own, no mouse pointer/cursor, mouse and keyboard not working, etc. Sometimes, it seems that your mouse pointer or cursor has mind of its own, and it moves automatically or jumps randomly when it is out of your touching!
How to Fix Windows 10 "Mouse Moving on Its Own" Issue
Vertical or horizontal mouse cursor moving always annoys you when you're using the computer? Today let's sit down and fix such Windows 10 "mouse moving on its own" problem. The following are some of the most effective solutions that you can use to fix this issue.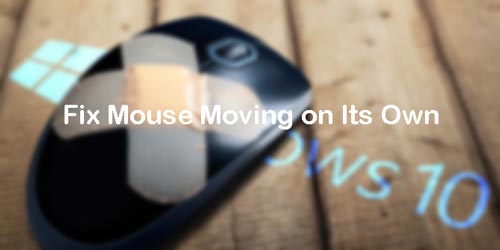 Method 1: Update the Mouse Driver and Fix Randomly Mouse Moving
Outdated, incompatible or broken mouse driver or touchpad driver brings about many input device problems, such as USB 3.0 device crashes, mouse not working, randomly mouse pointer moving, mouse cursor disappearing, mouse lagging etc. So go to Device Manager to check if there are yellow exclamation marks beside the names of Mice and other pointer devices. If so, use Driver Talent to repair the mouse driver instantly. This will help to update or reinstall the best-match mouse driver in your Windows 10 and fix the "mouse moving on its own" issue.
You can use a PS/2 mouse or the touchpad to click the button above to have Driver Talent directly, and then follow the steps below to update the mouse driver.
1. Click Scan to detect all the outdated mouse and touchpad drivers.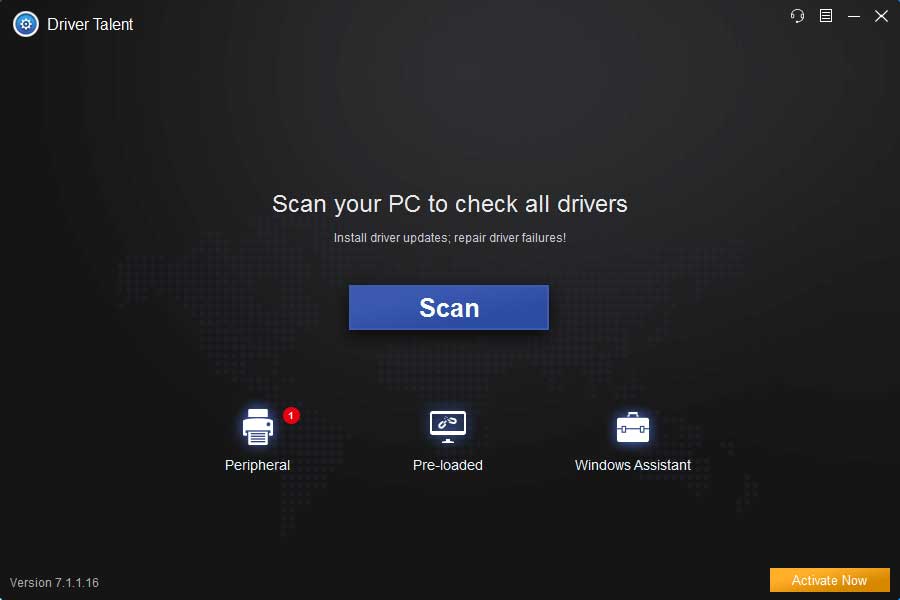 2. Click Update to download and install the best-match mouse driver.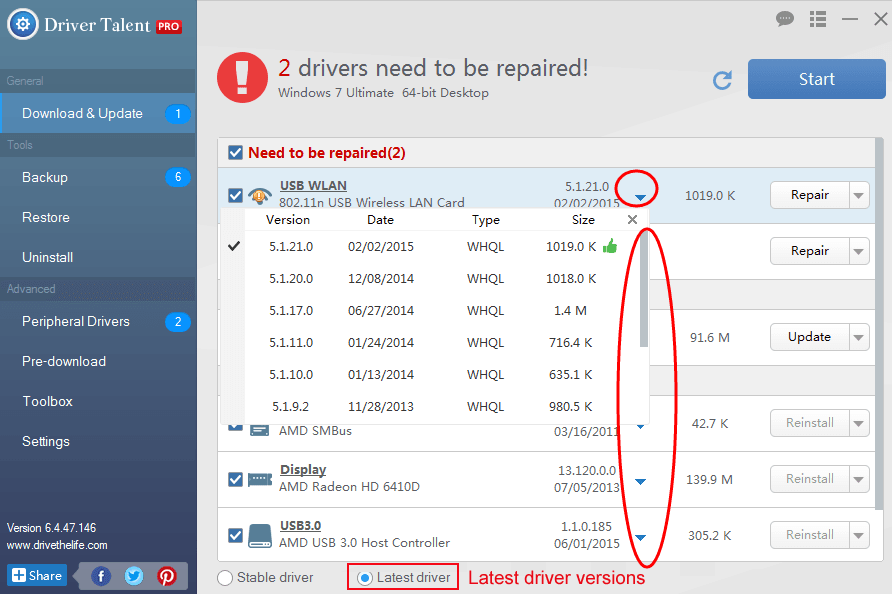 3. Perform a restart to make the driver changes take effect. (Note: It is recommended to backup drivers before any driver changes.)
Now test your keyboard or mouse or touchpad to see if the mouse pointer moving on its own has been resolved. Hope your mouse and the pointer work normally again.
Method 2: Check Hardware Related to Your Mouse
Firstly, in case you waste time on other useless computer operations, it is important to have a check on the hardware related to your mouse.
1. Test your mouse on another computer that works normally. If the mouse moving issue still persists, the mouse may be faulty and it is recommended to use a new one.
2. Check the mouse itself, including the buttons, the cable and the USB or PS/2 port. Make sure the buttons function and the cable is intact.
3. If you're using a wireless mouse, check whether there's enough power of it. If you're using a HID-compliant mouse, click here for more solutions.
See Also:Fix Mouse/Keyboard Not Working after Windows 10 Update on Feb. 2018
Method 3: Change Touchpad Delay to Stop Mouse from Moving on Its Own
Check the touchpad if you're using a laptop. Sometimes, the touchpad is so sensitive that makes the mouse pointer moving or jumping around on the screen. You can change the touchpad delay before the mouse clicks work. This will help stop the mouse pointer form accidently moving when you're typing.
1. Use Windows shortcut keysWin + I to launch Settings.
2. Select Devices.
3. Choose Mouse & touchpad tab.
4. Go to the Touchpad.
5. Change the delay via the drop-down menu.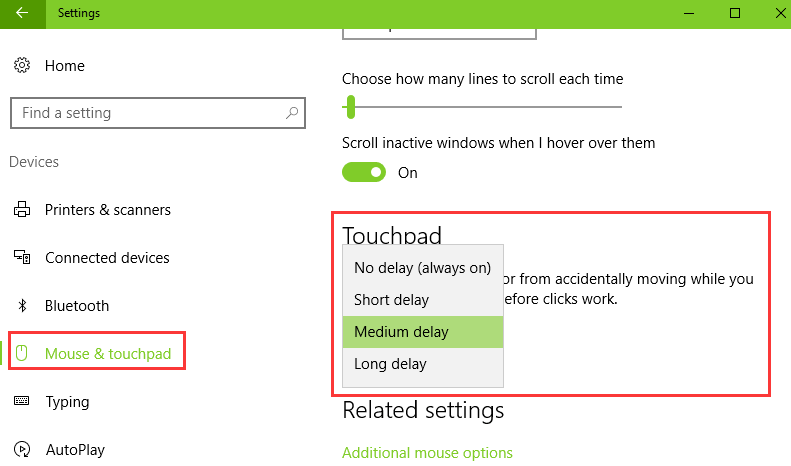 Method 4: Try Disabling the Touchpad
To make sure you are not touching the touchpad completely when your thumbs lay on the laptop, you can also disable the touchpad. Try the following to see if the mouse moving on its own issue still persists.
1. Right click on the touchpad icon in the notification area.
2. Then select Property of Touch-Pad.

3. Click on the Stop Device if you don't want to use the (Elan) touchpad any more. Or check the Disable when external USB pointing device plug in.
4. Click OK.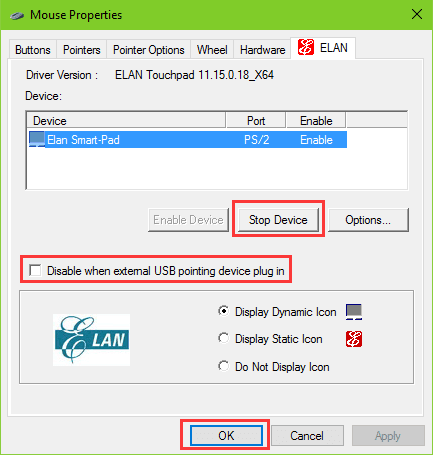 Method 5: Clean up Virus or Defective Programs
Virus or malware can also result in mouse pointer moving on its own. Launch your antivirus utility and perform a scan over your computer. Besides, the randomly mouse cursor moving may be caused by some defective programs, services or startups, it is better to perform a clean boot to exclude the possibility.
If you know little about Windows clean boot, see How to Use Windows 10 Clean Boot to Fix PC Errors.
All of the above are the possible best solution for fixing Windows 10 "mouse moving on its own" issue. If you know any good methods for this, you can inform us by comment. For more help, please click the LEFT MENU on this page. If you have any other Windows 10-related issues, you can check for solutions in our Windows 10 Issues and Fix section.
Other Mouse-related Issues and Solutions:
Recommended Download