How to Fix Games Not in Full Screen Mode Issue on Windows 10
Jun. 20, 2019 / Updated by Bessie ShawtoGaming Solutions
It is not a good experience to play Windows 10 games in a not full screen mode. Windows 10 is still far from perfect and newly annoying "games not in full screen" issue crops up every day in varied Windows 10 builds, like Windows 10 Fall Creators Update, Anniversary Update, and more.
In this case, users have two black strips beside the gaming screen, which makes the games unplayable or disturbs users during their gaming.
Culprits to trigger the games not running in full screen mode are:
1. Improper graphics settings
2. Incorrect registry values
3. Display card driver problems
Generally, you can adjust the screen resolution of Windows 10 to the same resolution as the game. For example, if the game resolution is 1024* 768, then you need to change your Windows 10 display resolution to 1024* 768. But if this does not help to run the game in full screen, you can refer to the viable solutions below.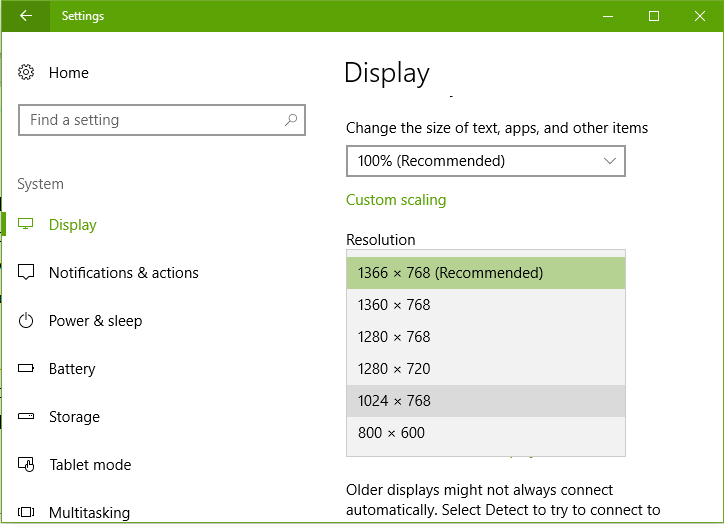 See Also:
Top 3 Ways to Run Games in Full Screen Mode on Windows 10 Computer
In this Windows 10 guide, we'll walk you through the top three ways to fix the games not in full screen mode after the latest Windows 10 updates.
Way 1. Modify Display-related Settings on Windows 10
Changes in NVIDIA Control Panel
If you're using an NVIDIA graphics card, you can make some changes in NVIDIA Control Panel to fix the full screen issue on Windows 10.
Step 1. Right-click any blank area on the desktop and select NVIDIA Control Panel.
Step 2. On the left pane, expand the 3D Settings entry and highlight the Manage 3D settings.
Step 3. On the right side, go to the Global Settings tab and select the High Performance Nvidia processor from the drop-down menu.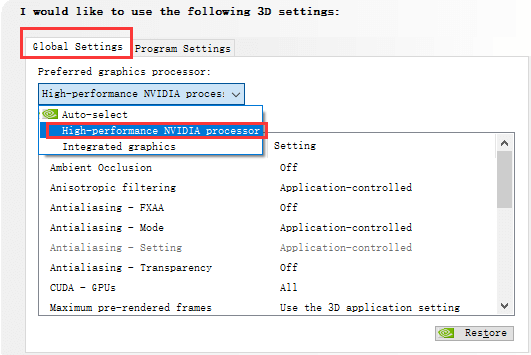 Step 4. Click the Apply button below to save the changes.
Then launch your game on Windows and switch to full screen mode to see if it is available.
See Also:How to Fix NVIDIA Control Panel Won't Open on Windows 10
Changes in Intel HD Graphics Settings
Step 1. Right-click any blank area on the desktop, and point to Graphics Options.
Step 2. On the sub-menu, point to the Panel Fit.
Step 3. On the sub-menu of Panel Fit, select Scale Full Screen.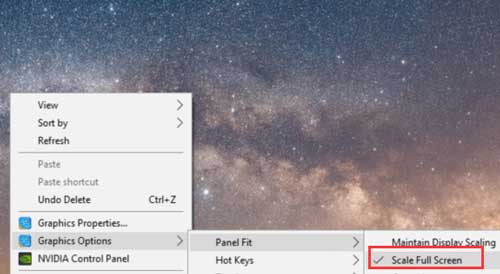 You can also make it via Windows Settings>System>Display>Display adapters properties>Intel HD Graphics Control Panel>Scaling: Scale Full Screen>Apply>OK.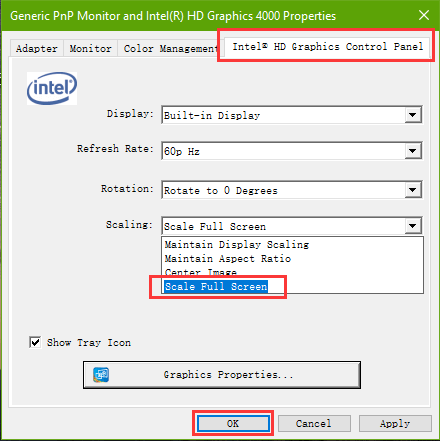 Enable DirectPlay Option on Windows 10
If the two setting changes above did not work, you can modify settings in Windows Control Panel.
Step 1.TypeTurn Windows features on or off into the taskbar search box and hit the Enter.
Step 2. After clicking the Turn Windows features on or off on the list, Windows Features box will pop-up. Scroll down and expand the Legacy components.
Step 3. Check the DirectPlay option and click the OKbutton.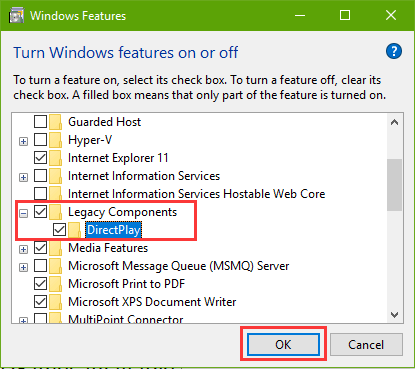 After you finish the setting modification, launch your computer game to see if the full screen game issue has been solved.
Way 2. Modify Registry to Make Full Screen Games Available
One of the workable solutions to make games in full screen mode available is to modify the registry on Windows 10. Note: Registry is a vital database in Windows 10. Any incorrect configuration may result in severe system issues. So you need to backup the registry before you make any changes.
Step 1.UseWindows shortcut keysWin + R to open Run.
Step 2. Type into regedit and click the OKbutton.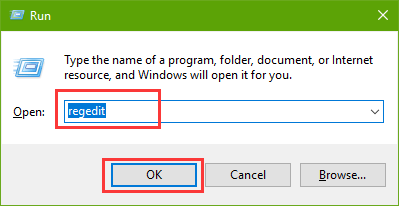 Step 3. Follow the path to expand the keys: HKEY_LOCAL_MACHINE\SYSTEM\ControlSet001\Control\GraphicsDrivers\Configuration
Step 4. Right-click the Configuration and select Find.
Step 5.TypeScaling into the box and click on the Find Next.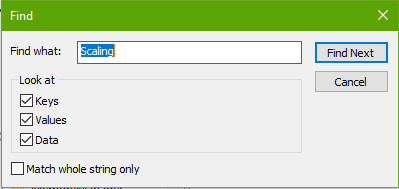 Step 6. On the right side, double-click the Scaling.
Step 7. Change the Value datato3.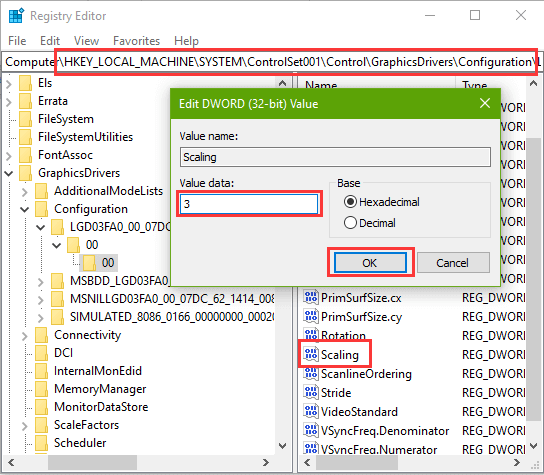 Step 8. Click the OKbutton.
This method can fix most of the game not running in full screen issue.
Way 3. Update Graphics Drivers to Fix Games Not Running in Full Screen Mode Issue
Also, you can update graphics/display card driver to troubleshoot the full screen game problem on your Windows 10 computer.
After the Windows 10 update, the original display driver has become an outdated one, which may cause various display problems, such as black screenissue,blue screenerror,distorted screen problem, etc.,
To fix the full screen game crashes on Windows 10, you can update the display driver by manually installing the driver update downloaded from the Internet. But if you prefer a one-click driver update solution, we recommend Driver Talent, the professional driver download and update utility used by over millions Windows users.
Only 3 steps to quick fix the driver issue:
Step 1. Launch Driver Talent and click the Scan button to detect all the display drivers that trigger the full screen game problem on your PC.
Step 2. Click the Update button to download and install the best-matched graphics driver updates.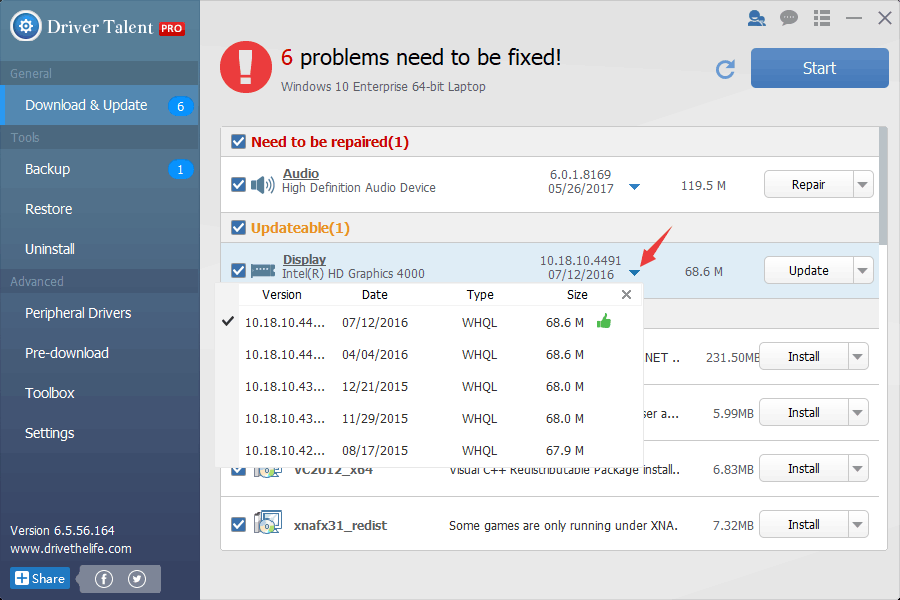 Step 3. Perform a restart of the computer to make the driver changes take effect.
Note: You can also use this utility to backup drivers on your computer as well as repair game components.
That's it. Hope this post can help you make your Windows 10 game run in full screen mode again. If you have any other Windows 10-related issues or game loading issues, you can check solutions in our Resource section on this site or our blog.
See Also:4 Fixes for Fix Screen Flickering after Windows 10 Upgrade
If you still fail to fix the full screen game issue or if you encounter other problems after the latest Windows 10 update, please drop a line in the comment section below or click the support menu on the left of this page. Many thanks.
Recommended Download