Fix: Mouse only Works in BIOS but Stops Working on Windows 10
Jun. 24, 2022 / Updated by Helia to Windows 10
Most of the Windows 10 users use their mice or keyboards with the USB ports. Sometimes the computer may run into an issue that mouse stops working on Windows 10 but only works in BIOS.
"My mouse suddenly doesn't work in the Windows 10 home screen, but it works perfectly fine when I am in the BIOS."
"Keyboard and mouse works in BIOS but stops working on a startup. Any solutions for this?"
"When I turn the computer on the mouse works fine in BIOS but as soon as I try to load Windows 10 it stops working."
These are part of the users' reports on the Internet. After loading Windows 10, users can see the home screen normally but there's no mouse cursor on the screen or they fail to click on the mouse to activate anything. In fact, such USB mouse malfunction can occur in various Windows systems, like Windows 10, Windows 7, Windows XP, etc.
Luckily, we've got some viable solutions for you to fix the bug "mouse not working after loading Windows 10 but only working in BIOS".
Top 3 Ways Solve Mouse Not Working on Windows 10 but Working in BIOS
You can follow the steps in each method to fix the mouse not working in Windows 10 issue. Note: For convenience, you can use a PS/2 mouse on your desktop computer or use the touchpad on your laptop to make changes on Windows 10.
Way 1. Test Your USB Mouse on Other PCs
The conflict between the USB mouse driver and a certain computer program can cause that you fail to use your mouse on the home screen of Windows 10.
Test the mouse on another computer.
This helps to make sure whether the "mouse not working on Windows 10 but only working in BIOS" issue is caused by this. If the mouse is working on other computers, there may be problems with your USB mouse driver or recently installed programs. You can go into the Safe Mode to fix the problem.
Boot into Safe Mode to solve the problem.
After you enter the Safe Mode, perform a Windows 10 clean boot to figure out the culprits that cause the "USB mouse not working on Windows 10 but only working in BIOS" problem. Once you find out the faulty application or software, uninstall it and restart the computer to see if the mouse functions again.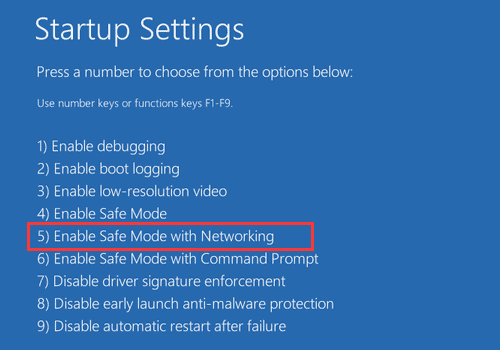 Go to BIOS to Enable the USB Legacy Support
This feature allows users to use USB mouse during the system startup. You can enable it by
1. Turn on the computer and Enter the BIOS via pressing the functions key(s) once you see the PC brand logo screen.
2. Use the arrow keys and the Enter key to find out the USB Legacy Support feature. Enable the feature.
3. Press F10 to save the changes and then boot into Windows 10.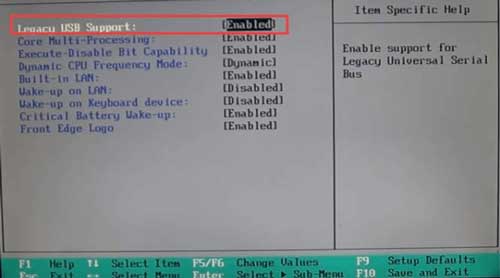 Way 2. Fix USB Mouse Not Working Error by Using PS/2 Port Mouse to Repair the Faulty Mouse Driver
If you're using a desktop or if there are PS/2 ports on your laptop, you can temporarily use a PS/2 mouse to fix the issue.
1. Plug the PS/2 mouse into the port on the motherboard on your computer.
2. Go to the Device Manager and expand the entry Mice and other pointing devices or Human Interface Devices or Universal Serial Bus controllers.
3. Find your USB mouse device and right-click to select Uninstall device.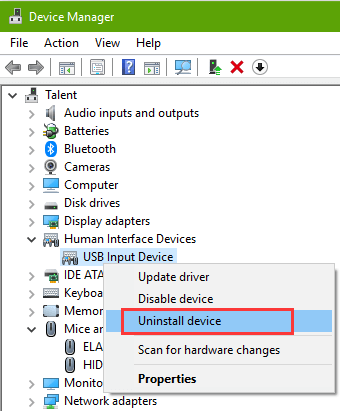 4. Go to your mouse brand website to download the best-matched USB mouse driver. (Or you can use one-click driver solutions, like Driver Talent, to download drivers and save some time.)
5. Install the mouse driver and reinstall the computer.
After that, test if your USB mouse has been brought back on track.
See Also:
Way 3. Fix USB Mouse Not Working in Windows 10 but Working in BIOS by Installing Correct Motherboard Driver
Faulty motherboard driver can also cause that the USB mouse stops working properly on Windows 10 but only works in BIOS. In this case, you need to install correct motherboard driver to fix the issue.
If you have the motherboard driver CD-ROM, you can reinstall the motherboard driver and then update it to the version compatible with your current Windows 10 version. But actually, most of the computers have not carried a CD-ROM drive now. In this case, you can do the following:
1. Download proper motherboard driver from another computer and transfer it to a USB drive.
2. Follow the tutorial on Microsoft website to create a USB bootable drive. Make sure the driver files are stored on the same USB drive.
3. Enter the BIOS and change the Boot Device Priority to USB Flash.
4. Boot into Windows PE and install the motherboard driver.
5. Restart the computer and boot into Windows 10. Try your USB mouse to see if the problem still persists.
See Also:Fix Mouse/Keyboard Not Working after Windows 10 Update on Feb. 2018
How to Quickly Install the Compatible USB Mouse Driver/Motherboard Driver for Windows 10
If you want to save your time and get rid of the time-consuming driver download process above, you can use a one-click driver download and install utility, Driver Talent, to help to fix the USB mouse driver or motherboard driver issues quickly. Received good reviews on both Engadget and SafeTricks, Driver Talent is a safe utility to offer official or WHQL drivers for PC brands, like Asus, HP, Dell, Acer, Lenovo, Samsung, Microsoft, MSI, etc.
Download it and transfer the .exe file to your USB drive. Then you can launch it to start a fast drivers download. This saves you a lot of time and energy. See Tip 3 for more details.
1. Launch Driver Talent on your Windows 10. Click the Scan button to check those outdated, broken, missing or incompatible drivers.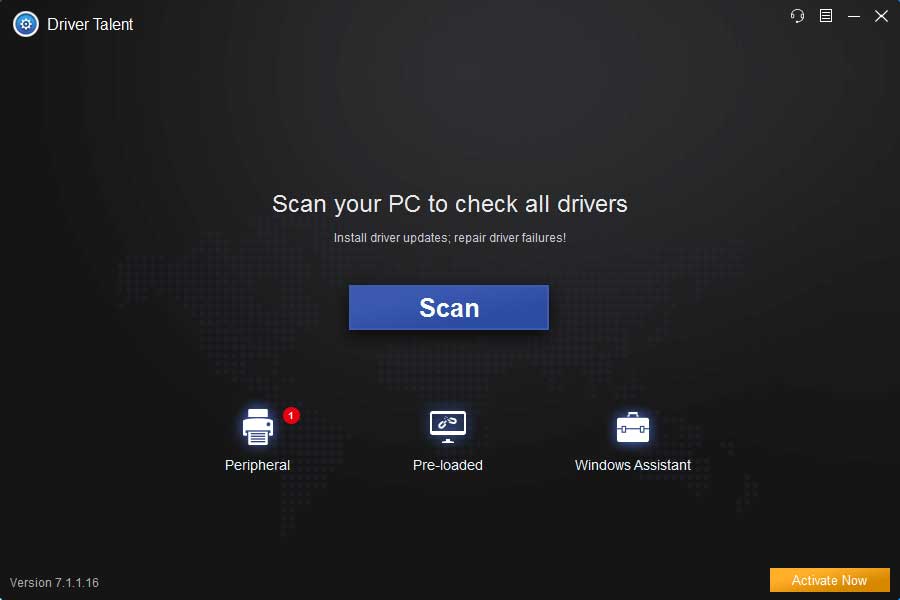 2. Click the Repair button or the Update button to start downloading proper drivers for your Windows 10. You can also select the driver version as required. It will install the driver once the download process finishes.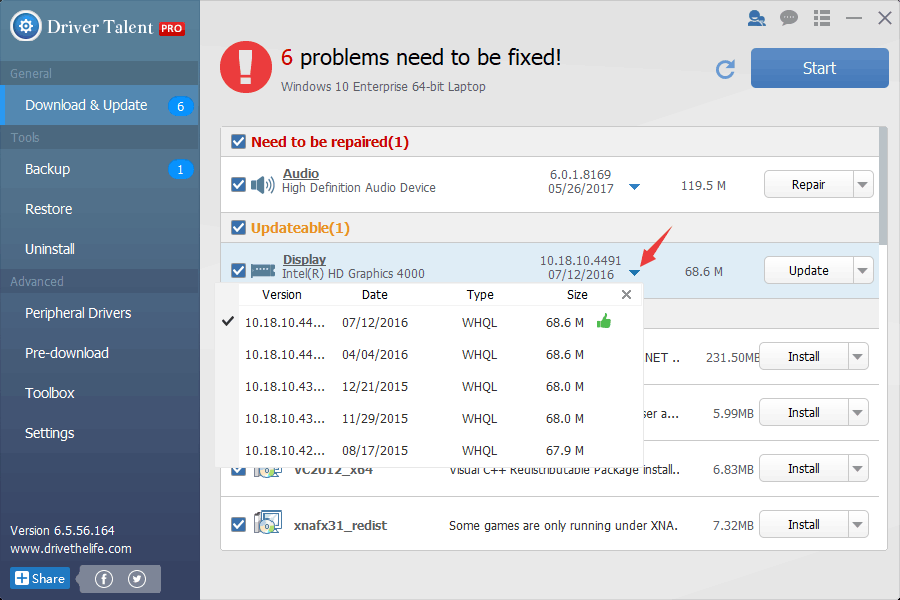 3. Restart the computer to make the driver changes take effect.
Note: It is better to create a system restore point and backup the drivers on Windows 10 so that you can quickly restore the system and the drivers once the computer runs into other issues.
That's it. Hope at least some of these methods are helpful for you. If you come across other Windows 10-related issues after the latest Windows 10 update, you can visit Windows 10 section on this site. Do comment below sharing your thoughts and experiences about how you fix the "mouse only working in BIOS but not working on Windows 10" problem. Many thanks.
Other Mouse-related Issues and Solutions:
Recommended Download